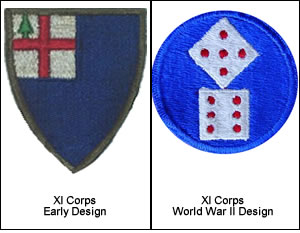 NAME:
XI Corps / Eleventh Corps / 11th Corps / XI Army Corps
NICKNAME:
None.
BATTLE HONORS:
World War II
New Guinea
Luzon
Southern Philippines
ACTIVATED:
March 21, 1922
Sept 3, 1942
DEACTIVATED:
Sept 2, 1942
Jan 21, 1968
HISTORY:
The XI Corps Creation to World War II

The Eleventh Corps first design insignia was approved by the Secretary of War on June 28th, 1922, after the Corps was constitued in July of 1921 and allocated to the Organized Reserves on the Inactive List.

The early style insignia was not worn during WW II as the Corps Commander requested that a different design be adopted. The design of the shoulder patch is based on that of the "Bunker Hill Flag" which had its origin as early as 1747 and was suggestive of the area where the Corps was assigned.


World War II

The Eleventh Corps was activated on June 15th, 1942, with Headquarters in Chicago, Illinois, conducted maneuvers in Tennessee in 1942, participated in winter maneuvers in Northern Wisconsin in early 1943, and directed the Blue Forces during the Second Army Tennessee maneuvers of November of 1943.

After two changes of station, the Corps embarked for the Pacific theater in March of 1944 and was assigned to the Alamo Force after arriving at Finschhafen, New Guinea.

The shoulder patch worn by the XI Corps during WW II was approved by the AGO on September 3rd, 1 942. The colors represent the National Colors, and the total number of dots on the dice indicate the unit's designation. The dice also suggest the gamble taken by all contestants in warfare, and the eleven shown on the dice is one of the "natural" winning combinations in the game of dice. Together they symbolize the gamble of combat, and the XI Corps as a winning team.


Post-World War II

Following World War II, the XI Corps again became part of the reserves. Then, during budge cuts for the Vietnam War, the XI Corps was deactivated on January 21, 1968.

Divisional history from:
http://www.pbase.com.../image/43272454
http://www.pbase.com.../image/43272452
http://www.vetshome....s_history_2.htm

Edited by Schottzie, 23 September 2007 - 11:55 AM.