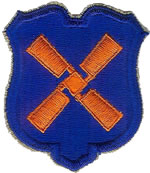 NAME:
XII Corps / Twelfth Corps / 12th Corps / XII Army Corps
NICKNAME:
None.
BATTLE HONORS:
World War II
Northern France
Rhineland
Ardennes - Alsace
Central Europe
ACTIVATED:
Jan 1934
Aug 29, 1942
1947(?)
DEACTIVATED:
Aug 28, 1942
April 1, 1968
HISTORY:
Organized Reserves to World War II

The XII Corps was organized in January 1934 in New York, New York as part of the organized reserves.

However, the patch design was approved 11 years prior to XII Corps' formation. Originally the XII Corps was placed on the inactive list of organized reserves and the Army had a patch created for the formations on the list.

The patch design, approved in 1923, is that of blades of a windmill superimposed on a shield of the city of New Amsterdam (old name for New York) in the Dutch colors of orange and blue. New York was the original location of the corps.


World War II

The Twelfth Corps was activated on August 29, 1942, with Headquarters at Columbia, South Carolina, and had one change of station before participating in the 1944 Tennessee maneuvers. The Corps embarked for the European Theater in April of 1944 and landed on Utah Beach in Normandy on July 27th.

Following occupation duty in southern Germany along the Czech border, the XII was inactivated on December 15th, 1945, at Regensburg after having fought through four campaigns and earning the nickname "Spearhead of Patton's Third Army."

Post-World War II

Following World War II, the XII Corps was again activated as part of the reserves. For almost twenty years, it continued to act as a reserve training formation.

With the Army budget cuts in the late 1960s, the XII Corps was inactivated on April 1, 1968.

Divisional history from:
http://www.vetshome....s_history_2.htm
http://www.pbase.com.../image/43272457

Edited by Schottzie, 23 September 2007 - 11:54 AM.