VMF-114 | "Death Dealers"

Date Commissioned: 11 Jul 43 at El Toro
Date Deactivated: transitioned to VMF(N)-114 1 Aug 47
Nickname of Unit: Death Dealers
Insignia Artist: Capt. Robert F. Stout, Squadron CO
Date of Insignia: 1943
Authorization: Local
Aircraft: F4U- 1

DEPLOYMENTS
Green Island/Funafuti -March to May(?) 1944 (F4U-1)
Peleliu - September 1944 to June 1945 (F4U-1)

AERIAL COMBAT RECORD
no victories

Although never operational in an area where it was opposed by enemy aircraft, VMF-114 was led by three aces. Maj Ed Overend, a "Flying Tiger" alumnus, established the squadron at El Toro but soon departed. Capt Bob "Cowboy" Stout, the popular skipper for almost a year-and-a-half, was a Guadalcanal veteran, and the last wartime CO was Maj Herb "Trigger" Long of varied experience in the Solo1nons and from fast carriers.

After transition to Corsairs in September 1943, VMF-114 arrived in Hawaii in December, serving on Midway until February 1944. Combat operations began from Green Island in March, the unit mainly flying missions to the Bismarcks. Stout took the squadron ashore at Peleliu in September 1944, a year after assuming command. The "Death Dealers" flew some of the shortest combat missions of the war, sometimes lacking time to raise their wheels after takeoff when bombing Japanese positions on Bloody Nose Ridge near the airfield. The pilots became extremely proficient, as demonstrated on September 30 when the Corsairs delivered 20 half-ton bombs in a 100 square-yard area.

A week later the "Death Dealers" supported Marine infantry landing on the small island of Ngesebus, a quarter-mile north of Peleliu. The four senior generals in the Palaus watched VMF-114 aviators practically scrape their bellies on the beach, delivering devastating close-range strafing. Maj Gen William H. Rupertus, commanding the 1st Marine Division, told Stout, ''That was a very gutsy show you put on." It was exactly the kind of CAS (close air support) that US Marine Corps squadrons were expected to provide leatherneck riflemen. The islet was taken with fewer than 30 American casualties.

"Cowboy" Stout was killed in action in March 1945 but the unit remained on operations until June. "Trigger" Long was still at the helm at Santa Barbara at the end of the war.

Wartime COs
Maj E. F. Overend  1 Jul 1943
Capt R. F. Stout (KIA) 18 Sep 1943
Maj R. Tucker 3 Mar 1945
Maj M. E. Oeltich 13 Apr 1945
WO A.J. Carmody 2 Jun 1945
Maj H. H. Long 2 Aug 1945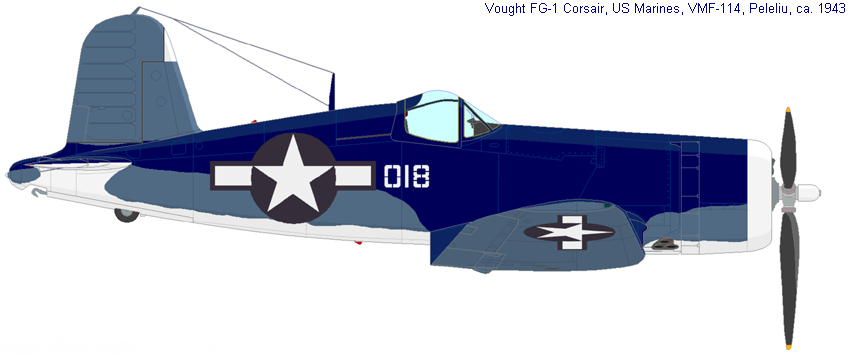 The playing cards depicted in the insignia served two functions. When placed next to "VMF" the Ace-Ace-Four configuration serves as the Unit's numerical designation. The "Aces Over Eights" were also the cards dealt to Wild Bill Hickcock the night he was shot by Jack McCall and known as the "Dead Man's Hand". As the insignia was designed by Capt. Robert "Cowboy" Stout whose home address was Wyoming, the choice of symbols was probably related to his background.

Millstein writes the insignia was produced for wear in very limited numbers and issued to flight personnel only. Later, when the squadron ceased operations and returned to the United States, the insignia was issued to all hands, this time without "Death Dealers" in the banner at the bottom.

First Issue | Australian embroidery on wool.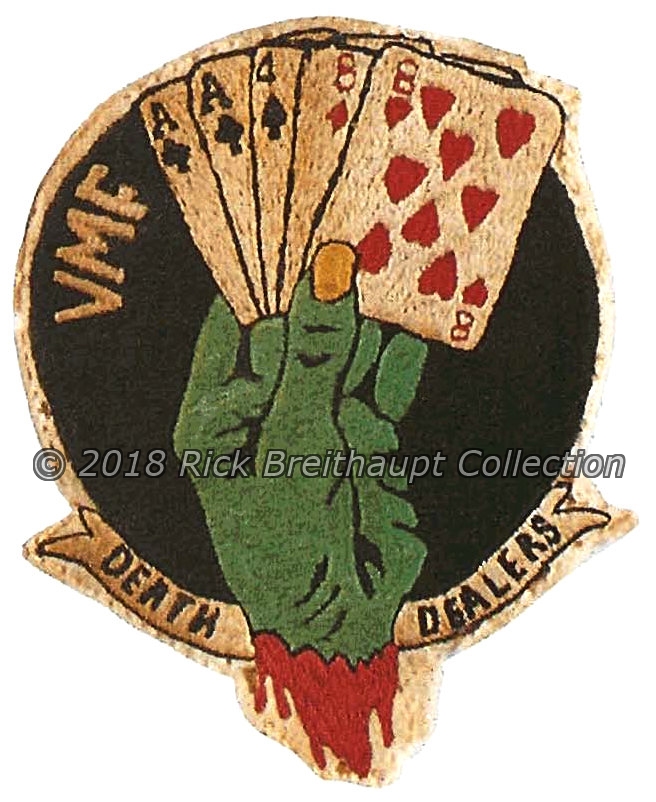 Silkscreened on leather, framed by leather rondell.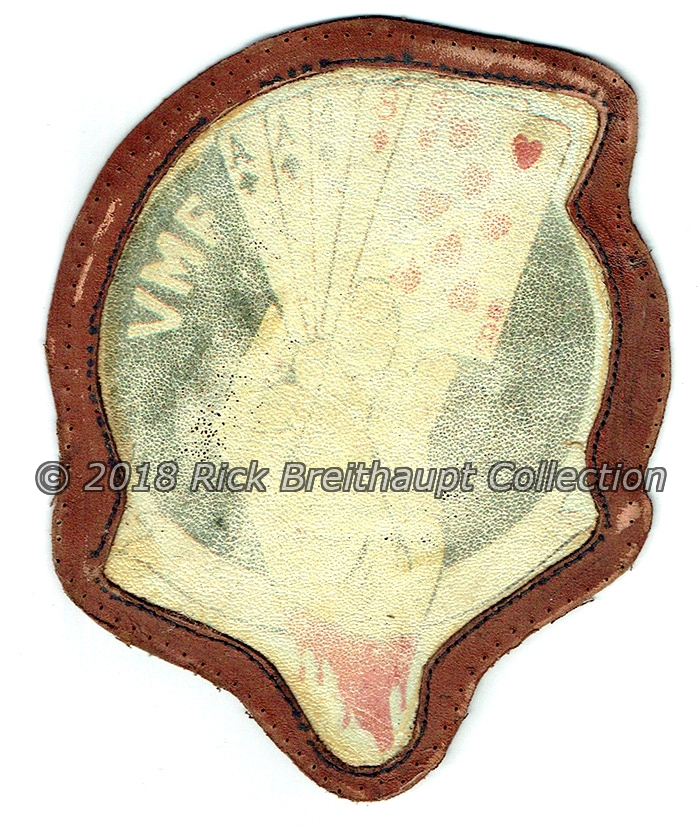 Second Issue | Silkscreened on canvas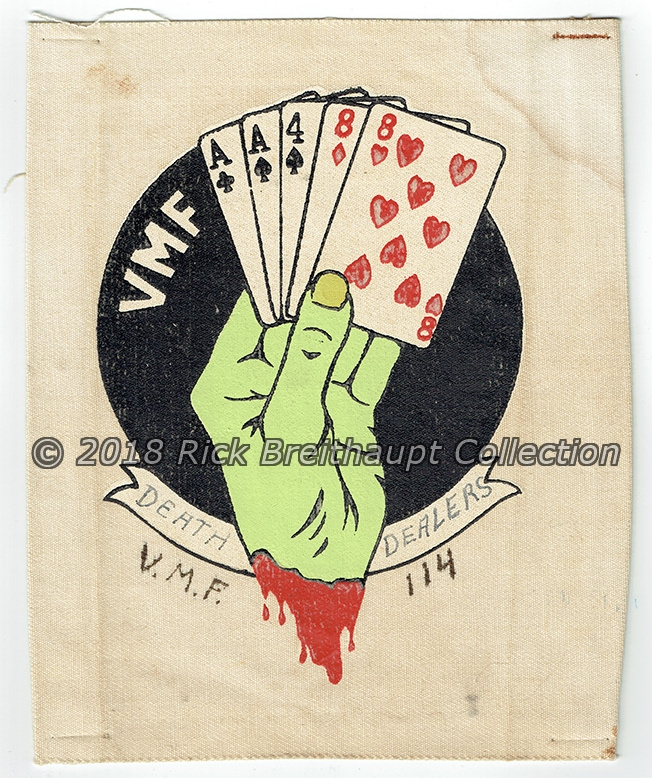 Apparently the "Death Dealers" was added by an artist, and the inked VMF-114 added.
Silkscreened on canvas | no squadron nickname.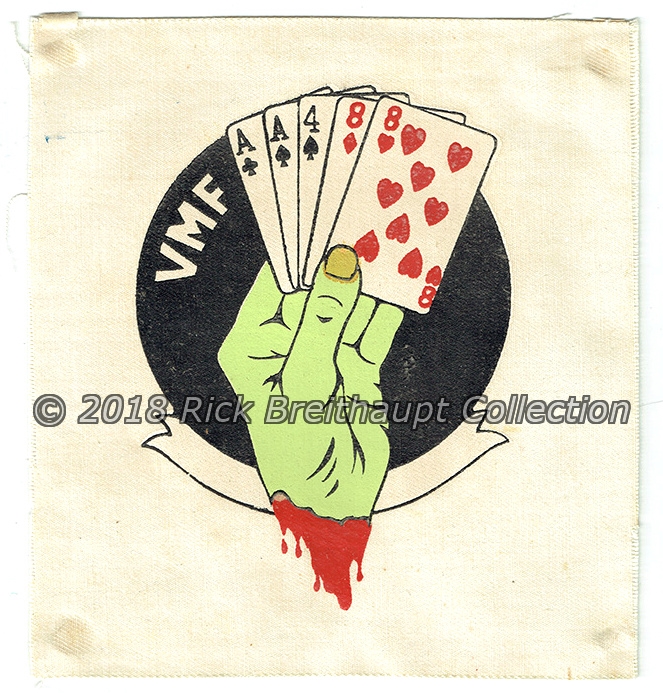 VMF-114 USMC Corsairs Peleliu Palau

 
Major Robert F "Cowboy" Stout

Sources
Millstein, Jeff. U. S. Marine Corps Aviation Unit Insignia 1941-1946.
Tillman, Barrett. U. S. Marine Corps Fighter Squadrons of World War II.