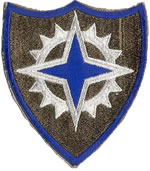 NAME:
XVI Corps / Sixteenth Corps / 16th Corps / XVI Army Corps
NICKNAME:
None.
BATTLE HONORS:
World War II
Rhineland
Central Europe
ACTIVATED:
Nov 23, 1943
DEACTIVATED:
April 30, 1968
HISTORY:
World War II

The Sixteenth Corps was activated on November 23, 1943, with Headquarters at Fort Riley, Kansas, and trained a number of Divisions for overseas service during the first eight months of 1944. The Corps conducted winter maneuvers at Watersmeet, Michigan, in February and March of 1944 and also made the first tactical tests on the Weasel (an amphibious tracked vehicle) at Land O'Lakes before embarking for the European theater in September of 1944.

The shoulder patch worn by the XVI Corps was approved by the QMG on April 3rd, 1944, and the sixteen points represent the unit's designation. The colors blue and white are the Corps'colors while the compass rose is also indicative of the readiness of the personnel of the Corps to serve their country in any part of the world.


Post-World War II

Following World War II, the XVI Corps then became a reserve unit. It served in this function until it was officially inactivated on April 30, 1968.

Divisional history from:
http://www.pbase.com.../image/43272466

Edited by Schottzie, 23 September 2007 - 12:03 PM.