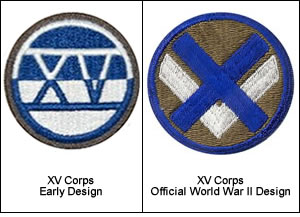 NAME:
XV Corps / Fifteenth Corps / 15th Corps / XV Army Corps
NICKNAME:
None.
BATTLE HONORS:
World War II
Normandy
Northern France
Rhiineland
Ardennes-Alsace
Central Europe
ACTIVATED:
Feb 15, 1943
1947(?)
DEACTIVATED:
1945(?)
March 31, 1968
HISTORY:
Two should sleeve insignia exist for the XV Corps. One unofficial pre-World War II version and then the official World War II version.


Pre-World War II

Originally the XV Corps was listed on as an organized reserve formation in circa 1921 by the U.S. Army. However, it was not officially activated at that time, but rather was one of the many reserve formations listed on the inactive list.

The unofficial early design was approved in October 1933 for the XV Corps of the organized reserves.


World War II

The XV Corps was organized and ordered into active service on February 15, 1943 at Camp Beauregard, Louisiana.

After additional training at the California-Arizona Desert Maneuver Area in the summer of 1943, the Corps embarked for the European theater and arrived in England on December 27th, 1943. While in England, the Corps was assigned to the Third Army and prepared for the Cobra phase of Operations on the Continent.

The official World War II shoulder patch worn by the XV Corps was approved by on April 20, 1943. Although the Corps was allocated to the Organized Reserves in 1921, it had no approved official insignia until WW II.

The Roman numerals "X" and "V" make "15" the unit's designation, and the colors blue and white are from the Corps' distinguishing flag. Two pre-war shoulder patches of different design have been attributed to the Corps, but there is no record of these being worn or approved.


Post-World War II

The XV Corps was inactivated at the end of World War II. Not long after, however, the XV Corps was again placed on the active list as part of the Army reserves.

It remained as part of the reserves until it was inactivated during Vietnam War budget cuts on March 31, 1968.

Divisional history from:
http://www.pbase.com.../image/43272464
http://www.vetshome....s_history_2.htm

Edited by Schottzie, 23 September 2007 - 12:02 PM.