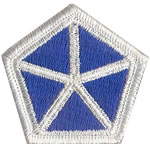 NAME:
V Corps / Fifth Corps / 5th Corps / V Army Corps
NICKNAME:
"Victory Corps"
BATTLE HONORS:
World War I
St. Mihiel
Meuse-Argonne
Lorraine 1918
World War II
Normandy
Northern France
Rhineland
Ardennes-Alsace
Central Europe
ACTIVATED:
July 7, 1918
Oct 1940
DEACTIVATED:
1919
HISTORY:
The V Corps (Fifth Corps)—nicknamed the Victory Corps—is a corps of the United States Army. It is headquartered at Campbell Barracks in Heidelberg, Germany.


World War I

V Corps was established during World War I at Remiremont, France on 7 July 1918, initially organized by Maj.Gen. William M. Wright.

Under the command of Maj. Gen. George H. Cameron it fought in the St. Mihiel offensive. By the end of the war, the Corps had participated in three campaigns and under the command of Maj. Gen. Charles P. Summerall, it carried the main attack in the decisive Meuse-Argonne offensive.

Dubbed the "Victory Corps" in recognition of its rapid advance in the final phase of the war, V Corps returned to the United States in 1919.


World War II

V Corps was reactivated at Camp Beauregard, Louisiana, in October, 1940, and took part in the famous Louisiana Maneuvers of 1941. The organization deployed to Ireland after the United States declared war on Germany, providing the first American soldiers and the first army headquarters deployed to the European theater in World War II.

V Corps was one of the formations that took part in the D-Day landings, on 6 June 1944. It landed on Omaha Beach, and many casualties were suffered there due to the strong German defenses. During the Battle of Normandy, and indeed for almost the whole campaign up to the surrender of Germany, V Corps was assigned to First Army. The only exceptions were a brief detachment to Seventh Army during the autumn of 1944 and being switched to Third Army during the very final days before the enemy surrender.


Cold War

After the war, V Corps remained in Germany as part of the American occupation forces. Its role then evolved into that of countering Soviet forces. Along with VII Corps, it was one of the two main US combat formations in Germany. Specifically, it guarded the vital Fulda Gap against a possible Soviet attack.

With the end of the Cold War came the Gulf War. Although units from V Corps took part in the Persian Gulf War of 1991, the corps headquarters itself did not deploy. They came under the control of VII Corps or XVIII Airborne Corps.


Post-Cold War

After the Gulf War, VII Corps was withdrawn back to the United States and disbanded, leaving V Corps as the only major US combat field headquarters in Europe. Various peacekeeping operations during the 1990s took V Corps units to Bosnia and Herzegovina and Kosovo. However, like the during the Gulf War, the headquarters itself did not deploy. In September 2000, V Corps participated in Operation Victory Strike I, one of the first times American units had ever deployed in Poland. In September 2002, Victory Strike II repeated the exercise. 4000 U.S., Polish, and Italian soldiers took part. The exercise tested a modular plug-in command post system which is expected to be used by U.S. forces in the future.

In March 2002, General Wallace traveled to U.S. Central Command headquarters in Tampa, Florida, to discuss contingency plans for deployment to the Middle East. A year later, for the first time since 1945, V Corps headquarters deployed for combat operations. It had many of the American forces committed to Operation Iraqi Freedom under its command. The main units under its command were the 3rd Infantry Division and 101st Airborne Division, along with a brigade from the 82nd Airborne Division. V Corps then handed control over Iraq to III Corps.

A significant portion of V Corps is now deployed to Iraq in support of Operation Iraqi Freedom as Task Force Victory under the command of Lieutenant General Peter Chiarelli.

In accordance with the current Army Chief of Staff's modularization plan, V Corps will be eliminated, leaving I Corps, III Corps, and XVIII Corps.

The 1st Infantry Division returned to the United States in July 2006.


V Corps Today

V Corps, operating as a Corps or a heavy Joint Task Force, rapidly deploys as a Contingency Force in support of EUCOM and CENTCOM regional military objectives or in support of NATO and UN military operations, to include Peace Operations. The Corps also provides trained and ready forces in support of CG, USAREUR / 7th Army validated operational requirements.

Under a new concept called "corps packaging," all of the National Guard's eight combat divisions and 15 enhanced separate brigades will be matched with active-component divisions at the corps level. Army Chief of Staff Gen. Eric K. Shinseki announced this expansion of teaming between active and Guard divisions 14 September 2000 in a speech to the National Guard Association annual conference in Atlantic City, NJ. Kansas' 35th Infantry Division would fall under V Corps in Heidelberg, Germany along with Louisiana's 256th Infantry Brigade (Mechanized) and Tennessee's 278th Armored Cavalry Regiment.

Today, V Corps is the U.S. Army's only forward-deployed corps, consisting of two heavy divisions, a corps support command and nine separate brigades totaling approximately 41,000 soldiers, 800 civilian employees and over 57,000 family members. V Corps represents the bulk of U.S. Army Europe's combat power and is continuously engaged in the European Command's area of responsibility. On any given day, fully twenty five percent of V Corps is deployed, making it one of the busiest units in the Army.

Concurrent with nearly five years of Balkan operations, the Corps has remained committed to NATO. In 1994 it entered into an arrangement with the Federal Republic of Germany to create two bi-national corps. For NATO central region contingencies, V Corps would command the 5th Panzer Division, while the German II Korps would command the U.S. 1st Armored Division.

In looking to the future, V Corps has recently undertaken two key initiatives. First is the establishment of an Immediate Ready Force (IRF) consisting of a Heavy Immediate Ready Company (HIRC) and five complimenting Force Enhancement Modules (FEMs). The HIRC is deployable within 48 hours and provides the Corps a quick reaction force to assist early entry forces as a follow-on force multiplier providing the superior firepower and protection of Abrams tanks and Bradley fighting vehicles. The five FEMs consist of a command and control package, an M113 infantry company, an HMMWV scout platoon, an engineer platoon and a military police platoon. In order to increase flexibility and reduce deployment times, all FEMs are designed to be deployable by C130 aircraft.

The second initiative is the complete redesign of the Corps main command post. The newly designed command post is tent-based and completely modular. It capitalizes on the latest technology to greatly improve the command post's efficiency while reducing the C17/C5 airlift requirement by over 80 percent. The Corps' goal is to make the command post entirely C130 deployable. Today's command post configuration is 80 percent C130 deployable. This new design makes it ideally suited to effectively perform the demanding command and control functions required for conventional corps operations or those of Joint/Combined operations.


Divisional history from:
http://en.wikipedia....ki/U.S._V_Corps
http://www.globalsec...rmy/v-corps.htm

Edited by Schottzie, 23 September 2007 - 11:52 AM.