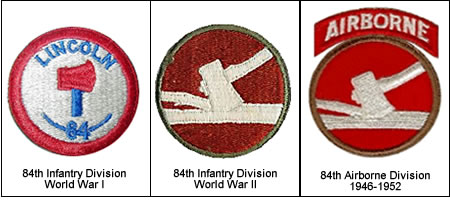 NAME:
Without "Airborne" tab:
Eighty-Fourth Infantry Division / 84th Division
With "Airborne" tab:
Eighty-Fourth Airborne Divisoin / 84th Airborne
NICKNAME:
"Railsplitters" and "Lincoln Division"
BATTLE HONORS:
World War II
Rhineland
Ardennes-Alsace
Central Europe
ACTIVATED:
Aug 1917
[Infantry]
Oct 15, 1942
[Infantry]
Jan 1946
[Airborne]
1952
[Infantry]
DEACTIVATED:
Jan 1919
[Infantry]
Jan 21, 1946
[Infantry]
1952
[Airborne]
NICKNAME HISTORY:
Tradition has it that the division traces its lineage to the Illinois militia company in which a young Captain Abraham Lincoln served during the Black Hawk War of 1832. The division patch was selected to honor this legacy and the division's original in Illinois. For this reason, the alternative nickname of "Lincoln County" Division has been used to denote the 84th.
The 84th Infantry Division derives its nickname, "Railsplitter" division, from the divisional insignia, an ax splitting a rail. This design was created during World War I, when the division was known as the "Lincoln" division to represent the states that supplied soldiers for the division: Illinois, Indiana, and Kentucky. All figured prominently in the life of President Abraham Lincoln, of log-splitting legend.
From:
http://en.wikipedia....fantry_Division
http://www.ushmm.org...duleId=10006138
PATCH HISTORY:
During World War I the 84th Division was referred to as the "Lincoln" division because it was primarily made up of National Guard [i.e., National Army] units from Illinois, Kentucky, and Indiana--the Lincoln states. Its original insignia was a red ax on a white background within a red circle, with the name "Lincoln" above the ax and the number "84" below it. The present insignia consists of a white ax splitting a white rail on a red circular background. Both insignias recall President Lincoln's youthful use of the ax. With the addition of a split rail, the division adopted the new nickname of "Railsplitters".
From: http://www.army.mil/...ob/84ID-ETO.htm
HISTORY:
World War I

Activated: August 1917.

Overseas: October 1918.

Major Operations: Provided replacements for other units; saw no combat.
Commanders: Brig. Gen. Wilber E. Wilder (25 August 1917), Maj. Gen. Harry C. Hale (6 October 1917), Brig. Gen. Wilber E. Wilder (26 November 1917), Brig. Gen. Wilber E. Wilder (15 December 1917), Maj. Gen. Harry C. Hale (1 March 1918), Maj. Gen. Harry C. Hale (5 June 1918), Maj. Gen. Harry C. Hale (21 July 1918), Brig. Gen. Wilber E. Wilder (18 October 1918), Maj. Gen. Harry C. Hale (31 October 1918).

Inactivated: January 1919.


Popularly known as the "Lincoln Division." Insignia, a white disk, surrounded by a red circle, on which is superimposed "Lincoln 84" in blue and a axe with a red head and a blue handle. A red battle axe was also the symbol of this division. Organized at Camp Taylor, Kentucky, in Sept., 1917. The division was composed of National Army drafts from Indiana and Kentucky, and remained in training at Camp Taylor until Aug., 1918.

Upon arrival in France, the division was desginaged as a depot division and ordered to the LeMans area.

Here the division was broken up and cadres were formed for training the personnel as replacements for combat divisions at the front.

Returned to the U.S. in Jan., 1919.

Commanding generals were: Brig.Gen. Wilbert E. Wilder, Aug. 25, to Oct. 6, 1917; Maj. Gen. Harry C. Hale, Oct. 6, 1917 to Nov. 11, 1918.

This division was composed of the following organizations: 167th and 168th Inf. Brigs., 159th Fld. Arty. Birg. 133d, 134th, 135th, 136th Inf. Regts., 125th, 126th, 127th Machine Guns Bns., 325th, 326th, 327th Fld. Arty. Regts., 309th Trench Mortar Battery, 309th Engr Regt. And Train, 309th Fld. Sig. Bn., 309th Hqs. Train and M.P., 309th Supply Train, 309th Amm. Train, 309th Sanitary Train (333d, 334th, 335th, 336th Amb. Cos. And Field Hospitals).


World War II

Activated: 15 October 1942.

Overseas: 20 September 1944.

Campaigns: Rhineland, Ardennes-Alsace, Central Europe.

Days of combat: 170.

Distinguished Unit Citations: 7.

Awards: DSC-12 ; DSM-1 ; SS-555; LM-4; SM-27 ; BSM-2,962 ; AM-59.

Commanders: Maj. Gen. John H. Hildring (October 1942-February 1943), Maj. Gen. Stonewall Jackson (February-October 1943), Maj. Gen. Robert B. McClure (October 1943-March 1944), Maj. Gen. Roscoe B. Woodruff (March-June 1944), Maj. Gen. Alexander R. Bolling (June 1944 to 1946).

Returned to U. S.: 19 January 1946.

Inactivated: 21 January 1946 (redesignated a reserve formation)



Combat Chronicle


The 84th Infantry Division arrived in England, 1 October 1944, and trained. It landed on Omaha Beach, 1-4 November 1944, and moved to the vicinity of Gulpen, the Netherlands, 5-12 November. The Division entered combat, 18 November, with an attack on Geilenkirchen, Germany, as part of the larger offensive in the Roer Valley, north of Aachen. Taking Geilenkirchen, 19 November, the Division pushed forward to take Beeck and Lindern in the face of heavy enemy resistance, 29 November. After a short rest, the Division returned to the fight, taking Wurm and Mullendorf, 18 December, before moving to Belgium to help stem the German winter offensive.

Battling in snow, sleet, and rain, the Division threw off German attacks, recaptured Verdenne, 24-28 December, took Beffe and Devantave, 4-6 January 1945, and seized Laroche, 11 January. By 16 January, the Bulge had been reduced. After a 5-day respite, the 84th resumed the offensive, taking Gouvy and Beho. On 7 February, the Division assumed responsibility for the Roer River zone, between Linnich and Himmerich, and trained for the river crossing. On 23 February 1945, the Division cut across the Roer, took Boisheim and Dülken, 1 March, crossed the Niers Canal on the 2d, took Krefeld, 3 March, and reached the Rhine by 5 March. The Division trained along the west bank of the river in March.

After crossing the Rhine, 1 April, the Division drove from Lembeck toward Bielefeld in conjunction with the 5th Armored Division, crossing the Weser River to capture Hanover, 10 April. By 13 April, the Division had reached the Elbe, and halted its advance, patrolling along the river. The Russians were contacted at Balow, 2 May 1945. The Division remained on occupation duty in Germany after VE-day, returning to the United States in January 1946 for demobilization.




Assignments in the European Theater of Operations


10 September 1944: Ninth Army, ETOUSA.
21 September 1944: III Corps.
4 November 1944: XIX Corps, Ninth Army, 12th Army Group.
8 November 1944: XIII Corps.
11 November 1944: Ninth Army, 12th Army Group, but attached for operations to the British XXX Corps, British Second Army, British 21st Army Group.
23 November 1944: XIII Corps, Ninth Army, 12th Army Group.
20 December 1944: Ninth Army, 12th Army Group, but attached to the XVIII (Abn) Corps of First Army, itself attached to the British 21st Army Group.
20 December 1944: VII Corps.
22 December 1944: VII Corps, First Army (attached to British 21st Army Group), 12th Army Group.
18 January 1945: VII Corps, First Army, 12th Army Group.
23 January 1945: XVIII (Abn) Corps.
3 February 1945: XIII Corps, Ninth Army (attached to British 21st Army Group), 12th Army Group.
4 April 1945: XIII Corps, Ninth Army, 12th Army Group.


Cold War to the Present

Shoulder Sleeve Insignia of the 84th Airborne Division (1946-1952) Following the conclusion of World War II, the 84th Division was taken off the active-duty roster and made part of the Army Reserve. In January 1946, following its inactivation from active status, it was reorganized and redesignated the 84th Airborne Division, and was headquartered out of Wisconsin. In 1947, it would go one to be designated as the Army's Airborne Reserve Command. Five years later, in 1952, the division was once more reorganized, this time as a training division comprised of three regiments—the 274th, 334th, and 339th. Throughout the 1950s, the division would continue its conversion to a training formation, changing its subordinate unit makeup from regiments to brigades and support groups.

On 24 January 1991, elements of the 84th Division (Training) were activated and mobilized for support roles in Operation Desert Storm. Less than three months later, on 22 March 1991, the elements were deactivated and returned home. In 1993, reorganization within the Army Reserve brought about the a mergance between the 84th and her sister formation, the 85th Division (Training). The move expanded the 84th's area of command to include the rest of Wisconsin and Illinois, as well as all of Missouri and Iowa. Soon after, in June 1994, units from the 84th participated in peacekeeping operations as part of the mulinational in the Sinai, Egypt, and remained there until July 1995.

In April of 1995, the formation was once more redesignated, this time to its current designation as an Institutional Training division. This change brought without it command of units and training in the state of Nebraska. In August of 1995, Army reorganization further expanded the 84th's range of authority to command the fourteen U.S. Army Reserve Forces Schools in Region E—Wisconsin, Michigan, Minnesota, Illinois, Indiana, and Ohio. In addition to training reserve and active units, the 84th is an integral part of the training programs for cadets from the United States Military Academy at West Point and the various college and university Reserve Officer Training Corps programs in its states of authority and influence.


The 84th Today:

The 84th Division (Institutional Training) is headquartered in Milwaukee and has subordinate units and soldiers throughout the states of Wisconsin, Illinois, Michigan, Minnesota, Ohio, Iowa, and Indiana. The 84th Division (Institutional Training) has 4,137 soldiers, in 43 subordinate commands. As an institutional training division, the 84th currently performs a variety of missions in support of the Army school system. Missions include providing basic combat training and infantry one station unit training to new soldiers and officer training to ROTC cadets. The division personnel also train active- and reserve-component servicemembers in combat-service, combat-service-support, health services and professional-development courses.

The Division currently has eight brigades. Three brigades conduct initial entry training while the remaining four school brigades train in a wide variety of subjects including; combat support MOS training, health services MOS training, and professional development training.

The 84th Division (Institutional Training) may not be heading to Kosovo, but unit members spent a weekend in June 2000 preparing others for deployment. Soldiers from 3rd Battalion, 274th Regiment and 3rd Battalion, 334 Regiment, 2nd Brigade (Basic Combat Training), 84th Division (IT) taught basic soldier skills to members of the 432nd Civil Affairs Battalion and Headquarters and Headquarters Company, 308th Civil Affairs Brigade. Sixty 432nd Civil Affairs soldiers were preparing for a deployment to Kosovo. The soldiers departed late summer 2000 and served in Kosovo for approximately six months in Operation Joint Guardian. However, in order for the soldiers to fulfill their civil affairs mission, they must hone their basic soldier skills. And that is what the 84th Division soldiers helped the Green Bay, Wis.-based unit accomplish. These requirements included qualifying on the M-16 or M-9, completing a land-navigation course, passing common task and physical fitness testing, and performing water survival training. The 84th Division soldiers are experts at training these skills. What they did is essentially what they do at BCT (Basic Combat Training). The job of the 84th Division's 2nd Brigade is to teach basic combat skills to new soldiers. In 2000 the Oshkosh-based unit is took on that responsibility at Knox and members of 3rd Battalion, 334th Regiment helped them. To complete its mission, the Oshkosh unit must provide enough personnel to run a basic training unit for approximately three months. The unit does this by rotating personnel every 17 days, however, when the unit needs help filling positions, it relies on this year's support battalion, 3rd Battalion, 334th Regiment, which is what it did during the weekend exercise. The company that conducted basic rifle marksmanship training at Knox helped the civil affairs soldiers qualify on their M-16s. The soldiers that do the end-of-cycle testing tought common tasks. The prime mission of the 3rd Battalion, 334th Regiment is to provide instruction on basic infantry skills, whether it is in a BCT environment, or during a training exercise. They provided M-9 qualification, common-task training, land navigation and assisted the civil affairs unit with water survival training.

What was to be a test of the commander's alert notification October 18, turned out to be the real deal for 20 Army Reserve soldiers and their families from the 84th Division (Institutional Training). The soldiers, members of 1st Battalion, 334th Regiment, 7th Brigade (Reception), were called to active duty in support of Operation Noble Eagle in the wake of the attack on America on Sept. 11. Twenty soldiers, mostly drill sergeants, left Oshkosh, Wis. Oct. 20 for an undetermined period in support of Operation Noble Eagle. They were bound for Fort Benning, Ga. to train other soldiers in basic soldier skills. During annual training they process new recruits through the military entry stations in preparation for basic training. During this deployment, they processed into active duty Individual Ready Reserve soldiers, people who had previously been in the Army, but were not currently assigned to a unit.


Divisional history from: http://ranger95.com/...th_div_ww1.html
http://en.wikipedia....fantry_Division
http://globalsecurit...arch/jsp/rs.jsp