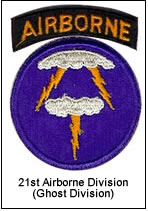 NAME:
World War I Without "Airborne" Tab:
Twenty-First Infantry Division / 21st Division
Cloud Patch With "Airborne" Tab:
Twenty-First Airborne Division / 21st Airborne
NICKNAME:
None
BATTLE HONORS:
None reported
ACTIVATED:
1918
[Infantry]
1943
[Airborne]DEACTIVATED:
1919
[Infantry]
1944
[Airborne]PATCH HISTORY:
Army records indicate that there was no official patch for this division.
HISTORY:World War I



21st Infantry Division



The 21st Division underwent training at Camp Sheridan, Nebraska during 1918, and was still in the process of formation when the war ended. Shortly afterwards the unit was deactivated.


World War II



21st Airborne Division



This division was a ghost division during World War II.