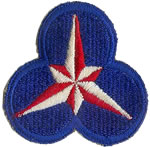 NAME:
XXXVI Corps / Thirty-Sixth Corps / 36th Corps / XXXVI Army Corps
NICKNAME:
None.
BATTLE HONORS:
None reported.
ACTIVATED:
July 10, 1944
DEACTIVATED:
July 12, 1950
HISTORY:
World War II

The XXXVI Corps was activated on July 10, 1944, at Fort Riley, Kansas.

The Corps' shoulder patch was approved by the QMG on October, 17th 1944, and the colors blue and white are from the Corps' distinguishing flag. The three points of the trefoil and the six points of the design when put together indicate the unit's designation.

On January 14, 1945, XXXVI Corps was transferred to Camp Gruber, Oklahoma. It remained there for another five years until it was officially inactivated on July 12, 1950.

This unit did not see action during the war.

Divisional history from:
http://www.pbase.com.../image/43272629

Edited by Schottzie, 23 September 2007 - 12:11 PM.