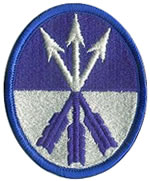 NAME:
XXIII Corps / Twenty-Third Corps / 23rd Corps / XXIII Army Corps
NICKNAME:
None.
BATTLE HONORS:
None reported.
ACTIVATED:
Jan 15, 1944
DEACTIVATED:
July 1950
HISTORY:
World War II

The XXIII Corps was activated on January 15, 1944, at Camp Bowie, Texas, and had one change of station to Fort McPherson, Georgia, in September of 1944. The Corps embarked for the European theater on December 10th, 1944, and stayed briefly in England.

The shoulder patch worn by the XXIII Corps was approved by the QMG on April 3rd, 1944. Blue and white are the Corps' Colors. The arrows are representative of the strength of the organization, and the two divisions of the oval when added
to the three arrows indicate the unit's numerical designation.


Post-World War II

The XXIII Corps remained on occupation duty for awhile until eventually returning to the states and being inactivated in July 1950.

Divisional history from:
http://www.pbase.com.../image/43272605

Edited by Schottzie, 23 September 2007 - 12:08 PM.