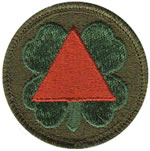 NAME:
XIII Corps / Thirteenth Corps / 13th Corps / XIII Army Corps
NICKNAME:
None.
BATTLE HONORS:
World War II
Rhineland
Central Europe
ACTIVATED:
Dec 7, 1942
1946(?)
DEACTIVATED:
Sept 25, 1945
June 5, 1970
HISTORY:
World War II

Activated on 7 December 1942 in Providence, Rhode Island, the XIII Corps fought for 180 days in the European Theater of Operations, fighting from the Netherlands to the Elbe River.

It was first activated under the command of then-Major General Emil F. Reinhardt, but would be commanded in combat by Major General (later Lieutenant General) Alvan C. Gillem, Jr. as a subordinate unit to Ninth U.S. Army, it under the command of the Allied 21st Army Group. In November of 1944, the XIII Corps pierced the Siegfried Line and pushed to the Roar River. On 23 February 1945, the corps routed Third Reich forces in the Cologne Plain and made a dash for the Rhine River on 31 March of that year.

In 180 days of combat, the corps had progressed as far as the Elbe River to the vicinity of Tangermunde, bringing it to approximately 50 miles from Berlin, the closest American forces would come to the enemy capital before V-E Day.

In total, the corps fought across more than 300 miles of enemy territory and captured more than 247,000 prisoners, as well as taking key cities, such as Viersen, Krefeld, Moers, Homburg, Munster, and Hannover. In the month following V-E Day, units from the corps were redeployed.

Corps headquarters would eventually find its way to Camp Cook, California, were on 25 September 1945, XIII Corps was inactivated.


Post-World War II

Following World War II, the XIII Corps was reactivated as part of the Army reserve.

It remained as such until it was inactivated again in June 5, 1970.

Divisional history from:
http://en.wikipedia....U.S._XIII_Corps
http://www.vetshome....s_history_2.htm

Edited by Schottzie, 23 September 2007 - 12:01 PM.