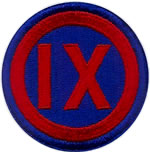 NAME:
IX Corps / Ninth Corps / 9th Corps / IX Army Corps
NICKNAME:
None.
BATTLE HONORS:
Korean War
UN Offensive
CCF Intervention
First UN Counteroffensive
CCF Spring Offensive
Summer-Fall Offensive
Second Winter
Summer-Fall 1952
Third Winter
Summer 1953
ACTIVATED:
Nov 1918
June 1, 1940
Aug 10, 1950
DEACTIVATED:
1919
March 1950
Sept 1995
HISTORY:
The U.S. IX Corps was a corps of the United States Army which served in World War II and throughout the Cold War. In time throughout its history it has been known as IX Army Corps, and is the foundation for both the U.S. 9th Theater Support Command at Camp Zama, Japan, and the U.S. 9th Regional Readiness Command at Fort Shafter, Hawaii, of the U.S. Army Reserve.


World War I

The IX Corps was initially organized in November 1918 at Ligny-en-Barrois, France right before the ceasation of hostilities in World War I.

World War I ended and the organization was debanded before it completed organization.


World War II

The IX Army Corps was activated at Fort Lewis, Washington, on June 1, 1940. In July 1941, the corps assumed operational responsibility for the Camp Murray Staging Area.

This was in addition to the normal training functions of the Corps. After the Japanese bombing of Pearl Harbor on December 7, 1941, IX Army Corps was assigned the mission of supporting defensive operations along the central and northern regions of America's western seaboard.

On September 1, 1943, the unit was redesignated IX Corps and a year later, September 25, 1944, IX Corps closed its headquarters at Fort McPherson, Georgia, preparatory to overseas movement to Hawaii.

Upon arrival, IX Corps was assigned to Tenth Army with a dual mission of developing an overall plan for the invasion of the Japanese-held coast of China, and the preparation of all Tenth Army units on Hawaii for movement to Okinawa.

With establishment of an overall command of Pacific Forces under General MacArthur, IX Corps moved to Leyte, Philippine islands, in July 1945 and was assigned to the Sixth Army. There, it began planning for the initial invasion of Kyushu, Japan and later, occupation of Japan in case the Japanese collapsed or surrendered.


Korea War

In October 1945, following the surrender of the Japanese military forces, IX Corps came ashore and established a headquarters at Sapporo.

During the occupation of Japan, U.S. IX-Corps was headquartered at Sendai, Japan and commanded the 1st Calvary Division and the 7th Infantry Division. It was deactivated during the downsizing reorganization of occupation forces on 28 March 1950.

With the outbreak of the Korean War, IX-Corps was reactivated at Fort Sheridan, IL, on 10 August 1950, with personnel from 5th Army Headquarters. IX-Corps staff and support units arrived in Korea on 22 September 1950 and became operational on 23 September 1950 when it assumed command of the U.S. 2nd and 25th Divisions.

Following the withdrawal from North Korea — during which both the 2nd and 25th Infantry Divisions suffered severe losses in both men and equipment to point these divisions were no longer capable of combat — the 2nd and 25th Infantry Divisions were transferred to 8th Army reserve and IX-Corps took command of the 1st Calvary Division, the 24th Infantry Division, the 1st Marine Division, the 6th ROK Infantry Division and the 187th Airborne Regimental Combat Team (ARCT.)

More reorganization took place in March 1951 when the 1st Marine Division and 187th ARCT transferred from IX-Corps command and were replaced by the U.S. 7th Infantry Division and the ROK 2nd Infantry Division.

In January 1952, with the exception of the U.S. 7th Infantry Division, all other divisions were transferred to other Corps command while IX-Corps received the 45th Infantry Division (Oklahoma National Guard.) IX-Corps was further augmented in March 1952 with the U.S. 2nd Infantry Division and ROK 2nd and 3rd Infantry Divisions plus the Capital ROK Division. At the same time the U.S. 40th Infantry Division (California National Guard) replaced the U.S. 45th Infantry Division.

A final reorganization took place during January 1953 when all divisions except U.S. 3rd Infantry Division and Capital ROK Division were transferred to other corps. IX-Corps received the 9th ROK Infantry Division at this time.

By the time the Korean War was over, IX Corps played an essential role in major army operations, such as Vulture, Clam-up, Tune-up, Mushroom, and Showroom - all of which were designed to limit Invading Communist manpower and equipment.


Post-Korean War to 1995

On January 1, 1954, Headquarters and Headquarters Company, IX Corps, was relieved from assignment to Eighth Army and assigned to Far East United States Army Forces. Camp Sendai was Headquarters XVI and then IX Corps during the 1950s. On February 2, 1956, IX Corps moved from mainland Japan to Fort Buckner, Okinawa, where it merged with Headquarters Ryukyus Command, to form HQ RYCOM/IX Corps on January 1, 1957.

On May 15, 1972, IX Corps once again returned to mainland Japan where it merged with HQ, U.S. Army Japan, to form HQ USARJ/IX Corps, fulfilling a contingency planning mission which includes periodic participation in joint and combined forces Command Post Exercises in the Western Pacific.

In 1961, IX Corps became a separate headquarters of U.S. Army Pacific. The 9th Regional Support Command [9th RSC] in Hawaii was designated HQ IX Corps (Augmentation) and was organized on January 16, 1962. At that time it was an integral part of the active Army's IX Corps, and participated in command post exercises with the corps for its annual training.

On April 27, 1987, the organization in Hawaii was re-designated HQ IX Corps (Reinforcement). Effective December 1, 1991, this organization was re-designated again as HQ IX Corps (Reinforcement/9th ARCOM). Effective October 1, 1995, the command in Hawaii was re-designated HQ 9th U.S. Army Reserve Command, following the inactivation of IX Corps at Camp Zama, Japan in September 1995.

When IX Corps was deactivated, the 9th Theater Army Area Command was activated in its place in Japan.


Divisional history from:
http://en.wikipedia....i/U.S._IX_Corps
http://www.globalsec...my/ix-corps.htm
http://www.korean-wa...m/IX-corps.html

Edited by Schottzie, 23 September 2007 - 11:53 AM.