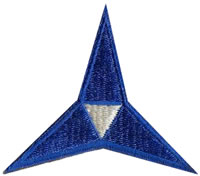 NAME:
III Corps / Third Corps / 3rd Corps / III Army Corps
NICKNAME:
"America's Hammer," "Phantom Corps," and the "Counterattack Corps"
BATTLE HONORS:
World War I
Aisne-Marne
Champagne
Oise-Aisne
Lorraine
Meuse-Argonne
World War II
Northern France
Rhineland
Ardennes-Alsace
Central Europe
ACTIVATED:
May 16, 1918
Dec 18, 1940
March 15, 1951
Sept 1, 1961
DEACTIVATED:
July 1, 1919
Oct 10, 1946
May 5, 1959
LINEAGE:
Organized 16 May 1918 in the Regular Army in France as Headquarters and Headquarters Troop, III Army Corps.
Demobilized 9 August 1919 at Camp Sherman, Ohio.
Constituted 15 August 1927 in the Regular Army as Headquarters and Headquarters Company, XXII Corps.
Redesignated 13 October 1927 as Headquarters and Headquarters Company, III Corps.
Activated 18 December 1940 at the Presidio of Monterey, California.
*Redesignated 1 January 1941 as Headquarters and Headquarters Company, III Army Corps.
Redesignated 19 August 1942 as Headquarters and Headquarters Company, III Corps.
Reconstituted 27 June 1944 in the Regular Army as Headquarters and Headquarters Company, III Corps; concurrently consolidated with Headquarters and Headquarters Company, III Corps (active) (see ANNEX), and consolidated unit designated as Headquarters and Headquarters Company, III Corps.
Inactivated 10 October 1946 at Camp Polk, Louisiana.
Activated 15 March 1951 at Camp Roberts, California.
Inactivated 5 May 1959 at Fort Hood, Texas.
Activated 1 September 1961 at Fort Hood, Texas.
Reorganized and redesignated 24 September 1965 as Headquarters, III Corps; Headquarters Company, III Corps, concurrently constituted and activated at Fort Hood, Texas.
HISTORY:
"The III Corps (Third Corps) —nicknamed the Phantom Corps, America's Hammer, and the Counterattack Corps— is a corps of the United States Army. The III Corps is the official counteroffensive force of the U.S. Army, and it is currently headquartered at Fort Hood, Texas. The formation was originally dubbed the III Armored Corps until 1943, when it was changed to simply III Corps. To this day it is still unofficially known as the "Armored Corps".


World War I

The III (Phantom) Corps was organized on March 30, 1918, at Langres, France. It was activated on May 16, 1918, at Mussy-sur-Seine and participated in the Aisne-Marne, Champagne, Oise-Aisne, Lorraine, and Meuse-Argonne campaigns. Its World War I commanders included Major General John L. Hines.

Following the end of the war, the corps was demobilized at Neuwied, Germany, on July 1, 1919.


Interwar Period

On August 15, 1927, the corps was reconstituted in the Regular Army as XXII Army Corps, and was redesignated as III Army Corps on October 13, 1927.


World War II

During World War II the Corps was deployed to The European Theater of Operations and earned the name "Phantom Corps" by hitting the enemy when least expected. The corps was recalled to active duty on December 18, 1940, at the Presidio of Monterey, CA, and remained to participate in the defense of the west coast following the Japanese attack on Pearl Harbor.

In early 1942, the corps moved to Fort McPherson, GA, for training. After a short period, the corps returned to Monterey and on August 19, 1942, was designated a separate corps. During the next two years, III Corps would train thousands of troops for combat, including 33 division-sized units, and participate in four corps-level maneuvers.

On August 23, 1944, the corps departed California for Camp Miles Standish near Boston, and subsequently deployed for the European Theater of Operations on September 5, 1944. Upon arrival at Cherbourg, France, the corps was assigned to the Ninth Army and given the code name "CENTURY" which it retained throughout the war. Corps Headquarters was established at Carteret, in Normandy, and for six weeks, the corps received and processed all the troops of the 12th Army Group arriving over the Normandy beaches during that period. The corps also participated in the famed "Red Ball Express" by organizing 45 provisional truck companies to carry fuel and ammunition for the units pursuing the Germans across France.

The corps was assigned to the Third Army on October 10, 1944, and moved to Etain, near Verdun, just in time to participate in the fight for Metz and the Battle of the Bulge. III Corps' first combat came during the battle for Fort Jeanne d'Arc, the last of the great Metz forts, which fell on December 13, 1944. Later that same month, III Corps was moved north to assist in the relief of Bastogne. During the first 10 days of action, III Corps liberated more than 100 towns, including Bastogne. This operation was key in halting the German offensive and the eventual drive to the Rhine River.

During the first four months of 1945, III Corps moved quickly to the offensive. On February 25, units established a bridgehead over the Roer River, which, in turn, led to the capture of the Ludendorff Bridge at Remagen, on the Rhine River, on March 7. On March 24, the Edersee Dam was captured intact and the corps continued the attack to seize the Ruhr Pocket on April 5, 1945. In late April, III Corps reformed and launched a drive through Bavaria towards Austria. On May 2, 1945, III Corps was ordered to halt at the Inn River on the Austrian border.

At the end of the war, III Corps had added campaign streamers for Northern France, Rhineland, Ardennes-Alsace, and Central Europe, had taken more than 226,102 prisoners and had seized more than 4,500 square miles of German territory. The corps had also participated in most of the critical actions from Normandy to the German-Austrian border. Its wartime commanders included Major General John Millikin and Major General James A. Van Fleet.

After 13 months of occupation duty in Germany, the corps returned to Camp Polk, LA, and inactivated on October 10, 1946.


Korean War

On March 15, 1951, during the height of the Korean War, III Corps was again called to active duty at Camp Roberts, CA.

In April 1954, III Corps moved to Fort Hood, TX, where it participated in a number of important exercises, either as director headquarters or as a player unit. The main purpose of these operations was the testing of new doctrines, organizations, and equipment.

On May 5, 1959, the corps was again inactivated.


Berlin Crisis

The Berlin crisis brought III Corps back to active duty for the fourth time on September 1, 1961. Units participated in an intensive training program and were operationally ready by December 1961. In February 1962, the Department of the Army designated III Corps as a unit of the U.S. Strategic Army Corps and in September 1965, assigned III Corps to the U.S. Strategic Army Forces.


Vietnam War

During the Vietnam era, the corps supervised the training and deployment of more than 137 units and detachments to Southeast Asia, including the I and II Field Force staffs. The corps also trained more than 40,000 individual replacements for units in Vietnam. As the war in Southeast Asia ended, the corps received many units and individual soldiers for reassignment or inactivation. It was also during this period that III Corps units participated in a number of key tests and evaluations that would help determine Army organization and equipment for the next 30 years.


Post-Vietnam Era to Present

In July 1973, III Corps became part of the newly established Forces Command (FORSCOM) and its training, testing, and evaluation mission began to grow. For the remainder of the decade, III Corps would take part in a number of Training and Doctrine Command (TRADOC) tests of organizations and tactical concepts, and play a key role in the fielding of new equipment. III Corps units would also participate in major exercises such as REFORGER (Return of Forces to Germany) and disaster relief operations in the United States and Central America.

III Corps played an increasingly important role in the decade of the 1980s. Corps units were on the leading edge of the Army's modernization effort with the introduction of new organizations and equipment like the M1 Abrams tank, M2/3 Bradley Fighting Vehicle, AH64 Apache helicopter, Multiple Launch Rocket System (MLRS), and Mobile Subscriber Equipment (MSE). III Corps' primary mission continues to focus on Europe and the training of forces for deployment. The corps participated in numerous field and command post exercises such as Road Runner '87 that involved more than 10,000 soldiers in a ten-county, Central Texas area. In 1987, III Corps also conducted the largest deployment of forces to Germany since World War II. This demonstrated the corps' ability to perform one of its primary wartime missions. III Corps also plays an important part in the training and support of active and reserve component units. This support involves training guidance, resources, and the maintenance of relationships that extend to wartime affiliations.


III Corps Today

The mission of II Corps is to, when directed, deploy to a theater of operations, conduct military operations and redeploy. As the Nation's Counteroffensive Force, III Corps trains, mobilizes, deploys, and sustains ready forces; on order, conducts decisive full-spectrum joint or combined operations.

Training for counteroffensive combat operations are III Corps' main effort. The Counteroffensive Force is designed to meet current needs in a dangerous and unstable world. It is offensive in nature and a departure from the old Cold War strategy, which was defensive in nature. Everything III Corps does is designed to support our preparations to fight and win. It is imperative that III Corps' war-winning readiness and deployability remain high. Actual threats and the contemporary operating environment (COE) threat must be replicated in training.

III Corps has unique challenges. Its headquarters is at Fort Hood, Texas; its aviation brigade is in Korea; and its corps artillery is at Fort Sill, Oklahoma. This distance between key elements, combined with high personnel turnover, intensifies the need for rigorous training during the few times it is able to bring the entire team together.

Operating Tempo (OPTEMPO) objectives are not just as a measure of training readiness. The objective training standard is the Combined Arms Training Strategy (CATS) standard of 800 miles per year and 14.5 hours per airframe per month or the equivalent OPTEMPO standard for other unit. All miles executed at the National Training Center (NTC) and during Contingency Operations (CONOPS) are in excess of that standard.

All III Corps units must be prepared on short notice to deploy to a theater of operations and conduct military operations in support of Commander in Chief missions. Additionally, there are emerging requirements to be prepared to conduct operational missions in the Continental United States (CONUS). Emphasis is placed on the execution of decisive offensive counter-attack operations. In general, commanders can achieve appropriate levels of force protection, deployment readiness, and training competency in a noncompetitive environment. However; when conflicts arise, commanders prioritize as follows: Force Protection, followed by METL-based training.

The III Corps was identified by FORSCOM as the primary provider of forces in support of Operation Noble Eagle and Homeland Security. As such, FORSCOM tasked III Corps to provide quick reaction forces (QRFs) and ready reaction forces (RRFs) to respond rapidly to a crisis within designated Federal Emergency Agency regions. Additionally, III Corps provided the majority of the FORSCOM requirements for forces in support of Joint Task Force Civil Support and Consequence Management (JTF-CS/JTF-CM). These forces are capable of responding anywhere in CONUS to a domestic chemical, biological, radiological, explosive (CBRNE) incident.

The III Corps is the Corps Force Provider for SFOR 14-15 and KFOR 5A-5B rotations. As such, III Corps is responsible for the complete and continuous support of the forces keeping the peace in Bosnia-Herzegovina and Kosovo. The III Corps' responsibilities begin 18-24 months before forces deploy and include all aspects associated with the sourcing, training, certification, validation, for these forces.

III Corps strives to maintain air and ground equipment to the Army's 10/20 standards at all levels. In general, ground combat systems must be maintained at a 90 percent Operational Readiness (OR) rate, Utility Helicopter UH-60 are at 75 percent OR, and air combat systems at a 70 percent OR rate. Conducting quality maintenance on tactical equipment enhances and facilitates training and warfighting and training are inseparable.

III Corps must do this within the framework of Department of the Army (DA) and FORSCOM guidance that dictates that III Corps become the standard bearer of the Army's Legacy Force. The Army is investing in industry and technologies to create the objective force, to transform the Army from its current Cold War organization and equipment into a force that better utilizes its full-spectrum capabilities in a more strategically deployable force. The Army will continue to modernize and upgrade the legacy forces -- III Corps, the counterattack corps, and XVIII Airborne Corps, the contingency corps -- as a hedge to fight wars.

For the next 15 to 20 years, the existing force will represent the bulwark of the land forces of the United States, and they must be maintained in sufficient readiness and capability to perform all potential missions. The nucleus of this force will be the Counterattack Corps, which is based upon the Army's III Corps in Fort Hood, Texas. In balancing its resources, the Army decided that this Corps will receive the highest priority for recapitalization and modernization efforts in order to ensure its peak readiness and capability for warfighting missions. As a result, it will receive modernized systems such as the M1A2 System Enhancement Program (SEP) Abrams tank, the M2A3 Bradley, Crusader, as well as other new or upgraded systems in a variety of areas. III Corps consists of both Active and Reserve Components, all of which will be modernized to ensure that the Counterattack Corps is ready for any and all missions.

The Army transformation strategy requires a capable recapitalized legacy force focused on a digitized heavy counterattack corps. The current Army plan is to limit recapitalization to the counterattack corps. Recapitalization does not modernize the force; it is broken into two separate programs (rebuild and selective upgrade). Rebuild restores systems to a like-new condition in appearance, performance, and life expectancy. Selected upgrade rebuilds the systems and also inserts new technology to improve reliability and maintainability. Recapitalization reduces the Army's near-term operational risk by extending the service life of existing warfighting systems thru an aggressive program. The essential point here is that in order to generate the investment capital required to accelerate transformation to the revolutionary Objective Force, the Army has skipped a generation of procurement.

The III Corps is fully engaged in transformation and is the first fighting force of its size equipped with a complete suite of interoperable, automated Command, Control, Communications, Computer, and Intelligence systems. These systems lay the foundation for Network Centric Warfare and dominance of the information sphere. Keeping III Corps and other Legacy Forces the best in the world is a vital part of Transformation. The fielding of modernized and recapitalized systems is focused on the counterattack corps headquartered at Fort Hood. The Army has already begun fielding enhanced Battle Command Systems within III Corps. Combat platforms like the M1A2 System Enhanced Program (SEP), the M2A3 Bradley Fighting Vehicle and AH-64D Apache attack helicopter are integrated into the Army Battle Command System. Taken together, these systems represent a dramatic capability to conduct decisive combat, today and in the future.. Along with information and materiel system fielding, III Corps units continue to reorganize under new Modified Table of Organization and Equipment while inculcating updated doctrine tactical techniques and procedures into formations.

Under a new concept called "corps packaging," all of the National Guard's eight combat divisions and 15 enhanced separate brigades will be matched with active-component divisions at the corps level. Army Chief of Staff Gen. Eric K. Shinseki announced this expansion of teaming between active and Guard divisions 14 September 2000 in a speech to the National Guard Association annual conference in Atlantic City, NJ. Under III Corps at Fort Hood, Texas, the 7th Infantry Division's headquarters at Fort Carson, Colo., would align with the Guard's 39th Infantry Brigade in Arkansas, the 41st Infantry Brigade in Oregon, the 45th Infantry Brigade in Oklahoma and the 155th Armored Brigade in Mississippi. The 49th Armored Division remains paired with the 1st Cavalry Division at Fort Hood; Minnesota's 34th Infantry Division with the 4th Infantry Division at Fort Hood; and Indiana's 38th Infantry Division with Fort Carson, Colo.

Approximately 160 soldiers from two 13th Corps Support Command units -- the 546th Area Support Medical Company and the 68th Engineer Company returned to Fort Hood July 29, 2003. The 546th Area Support Medical Company deployed on Feb. 14 and the 68th Engineer Company deployed on March 2 for Operation Iraqi Freedom.


Divisional history from:
http://en.wikipedia..../U.S._III_Corps
http://www.globalsec...y/iii-corps.htm

Edited by Schottzie, 23 September 2007 - 11:51 AM.