So- perhaps I cheated due to the fact that most of this stuff is inherited from my two uncles in either the 91st Infantry or the 1st Marines

Col.Nestor Aliga RET (2007). 91st Infantry Div.
I only know him as Uncle Mario because I've only met him once. RET (2004). 1st Marines
Here's a list of what I have on:
PASGT helmet and Vest
LBV (SAAV?)
LC1 belt (eventually will be replaced with LC2)
Canteen with cover and cup
DCU
Issued Desert Boots dated 93 (my uncle didn't get them until AFTER leaving Saudi Arabia once Desert Storm ended)
Oakly Googles (too far ahead
http://www.usmilitar...tyle_emoticons/
default/pinch.gif that I bought back in 2001 when my uncle took me to the PX at Travis AFB)
-Speaking of Desert Storm, he threw out his DBDU uniform but kept a CRAP LOAD of ALICE pack covers-
http://www.usmilitar...tyle_emoticons/
default/crying.gif But at least he kept his ERDL jacket from early in his career
I also have woodland BDUs and M65 and I will post it once I put it together. (it's more accurate)
AND YES! THOSE SKITTLES ARE FROM AN MRE! haha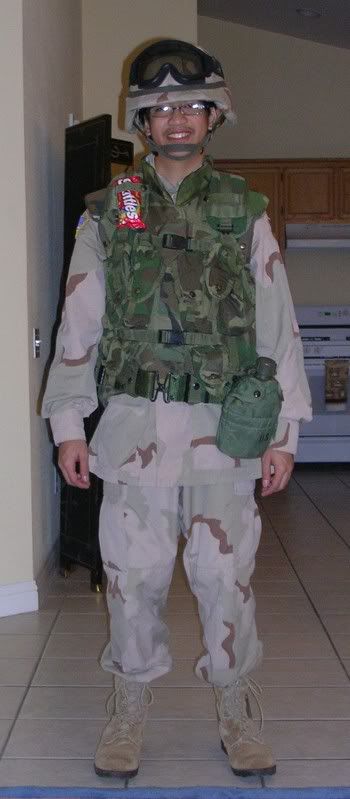 Just to make sure, Do I have the correct LBV? And what else do I need?
PS if anyone has any info/sites (BESIDES WIKIPEDIA) where I can read more about the 91st please tell me

I'd like to know more about it.
Thanks!