VF-36
An example of the complicated nature of Navy squadron lineage can be seen in this unit's short life.
 
VF-36 (I)
History
15 Oct 1942 | Organized VGS-18
1 Mar 1943 | Redesignated VC-18
15 Aug 1943 | Redesignated as VF-36
Feb 1944 | Assigned to Air Group 18 and redesignated VF-18
VF-36 (II)
History
15 May 1944 |  VF-36 Established at NAS Los Alamitos
28 January 1946  | VF-36 Disestablished
Stations
15 May 1944 | NAAS Los Alamitos
28 Oct 1944 | NAAS Holtville
6 Nov 1944 | NASS Livermore
12 Dec 1944 | NAS Seattle
2 Jan 1945 | NAS Klamath Falls
6 Mar 1945 1944 | NAAS Holtville
29 Mar 1945 | NAAS Brown Field (Chula Vista)
18 Apr 1945 | NAS North Island (San Diego)
22 Apr 1945 | NAAS Brown Field
2 Jul 1945 | NAAS Twenty-Nine Palms (CA)
15 Aug 1945 | NAS Barber's Point (TH)
Aircraft: FM-2; F6F-3; F6F-5

Deployments
4 Aug 1944 - 7 Aug 1944 | CVE-89 Takanas Bay (for FM-2 carrier qualification)
18 Sep 1944 | CVE-91 Makassar Strait (F6F-5 carrier qualification)
15 Apr 1945 | CVE-101 Matakakau
15 June 1945 - 28 June 1945 | CVE-112 USS Siboney
8 August 1945 - 15 August 1945 | CVE-112 USS Siboney
 
VF-36 (II) | Embroidered on twill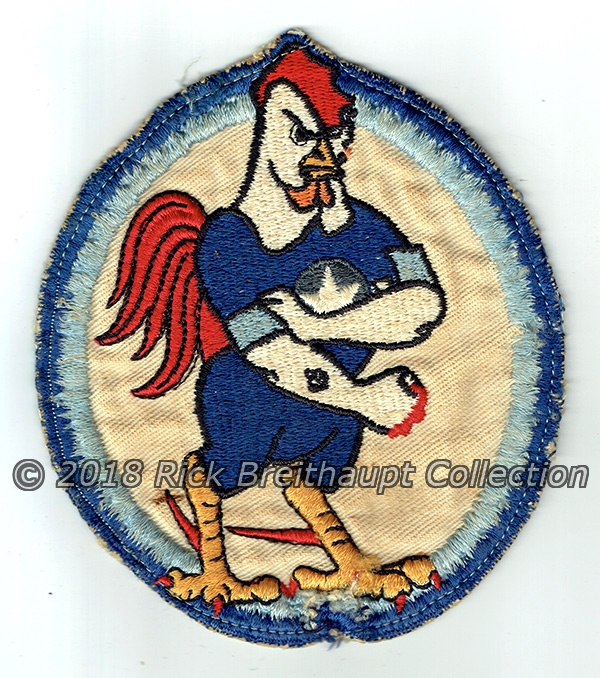 On 1 March 1944 VF-300 was commissioned at NAAS Los Alamitos.  On 6 Apr 1944 six of its pilots were detached leaving twenty-six and on 2 May 1944 the squadron was decommissioned and remaining personnel transferred to Carriar Aircraft Service Thirty-Three for fitting out of VF-36.

On 15 May 1944 VF-36 was commissioned at NAAS Los Alamitos, a unit of CVE Group-36, consisting of one fighting and one torpedo squadron.

During June and July, field carrier landings were added to the training routine, and on 4 August 1944 the air group embarked at San Diego on the Takanas Bay (CVE-89) for carrier qualification. In August the squadron received 18 F6F-5's replacing 24 FM-2's and pilot personnel was reduced from 32 to 27. Training continued throughout August and September. On 18 September 1944 the squadron went aboard the Makassar Strait (CVE-91) for carrier qualification in F6F-5's. On 28 October 1944 the squadron moved to NAAS Holtville for rocket training after which reporting to NASS Livermore on 6 Nov 1944, and on 12 Dec 1944 to NAS Seattle.

On 11 November 1944 24 of its 28 pilots were sent to combat in the Pacific as replacements. The survivors of the "shucking", eight officers and fourteen enlisted, stood by for further orders and on 9 Dec 1944 were sent to NAS Seattle to receive new personnel and equipment and to reorganize. During the last two weeks in December the squadron received its new pilot personnel.

On 2 Jan 1945 the squadron moved for further training at NAS Klamath Falls, OR, the squadron was moved to NAAS Los Alamitos. On 6 Mar 1945 the squadron continued rocket further training at NAAS Holtville, CA whereupon on 29 Mar 1945 it was moved to NAAS Brown Field (Chula Vista), CA. On 15 Apr 1945 the squadron embarked on USS Matanakau (CVE-101) for carrier qualification whereupon on 18 Apr 1945 it was transferred to NAS North Island for anti-submarine training which was completed on 22 Apr when it returned to Brown Field.

On 15 Jun 1945 the squadron embarked on USS Siboney (CVE-112) for its shakedown cruise and pilot carrier recertification returning 28 Jun 1945 to NAAS Brown Field while the Siboney underwent final modifications and alterations in the yard. On 2 Jul 1945 the squadron proceeded to NAAS Twenty-Nine Palms, CA for training with "Tiny Tim" rockets for six days, returning to Brown Field on 8 Jul 1945. Siboney had been due out of the yard 15 Jul 1945 but was delayed. On 8 Aug 1945 the squadron returned to Siboney and it sailed. While at sea, on 14 Aug 1945 the Captain announced to the crew that Japan had accepted the terms fo surrender. The following day Siboney put into Pearl Harbor and its air group was sent to NAS Barber's Point for temporary duty with nothing left to fight.
Source:
History of Fighting Squadron Thirty Six. U. S. Navy Records.