VF-33 | "Hellcats"

Established as VGS-16 (8 Aug 42) at NAS Seattle WA
Redesignated VC-16 (1 Mar 43), VF-33 (15 Aug 43)
Disestablished (19 Nov 45) at NAS Oceania VA

Deployments:
Aug 43 - Sep 43   Guadalcanal | F6F-3
Oct 43 - Jan 44    New Georgia | F6F-3
Feb 44 - May 45   Sangamon (CVE-26) | CVEG-33 | F6F-5, -5P
Jul 45 - Sep 45    Chenango (CVE-28) | CVEG-33 | F6F-5, -5P

Combat record: 90.5 victories, 3 aces. Lost 12 pilots.
It was my good fortune to obtain a attributed lot that included two insignia and a number of photographs (posted in a reply due to forum image restrictions) and documents.
Theater made. Australian embroidery on wool.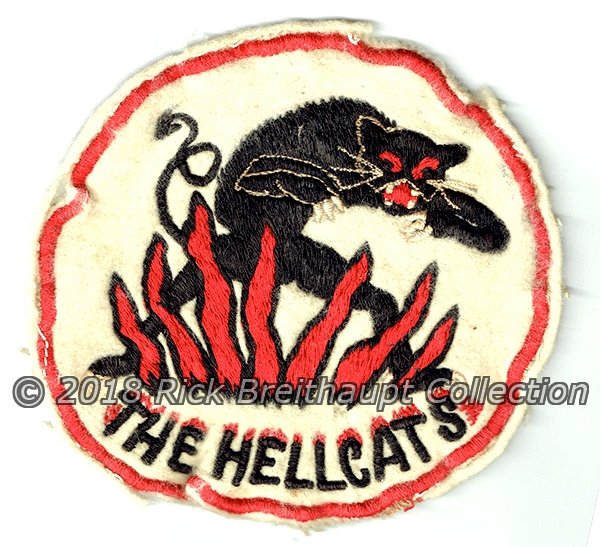 Decal.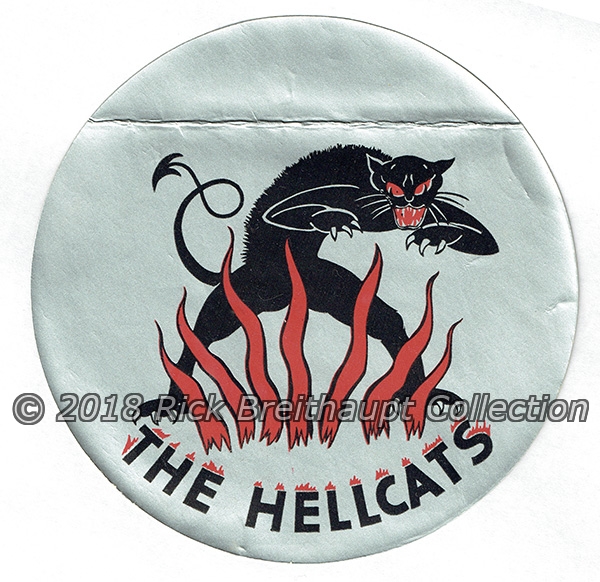 Lt(jg) John P. Propis and Lt. John R. Pleasant holding squadron insignia.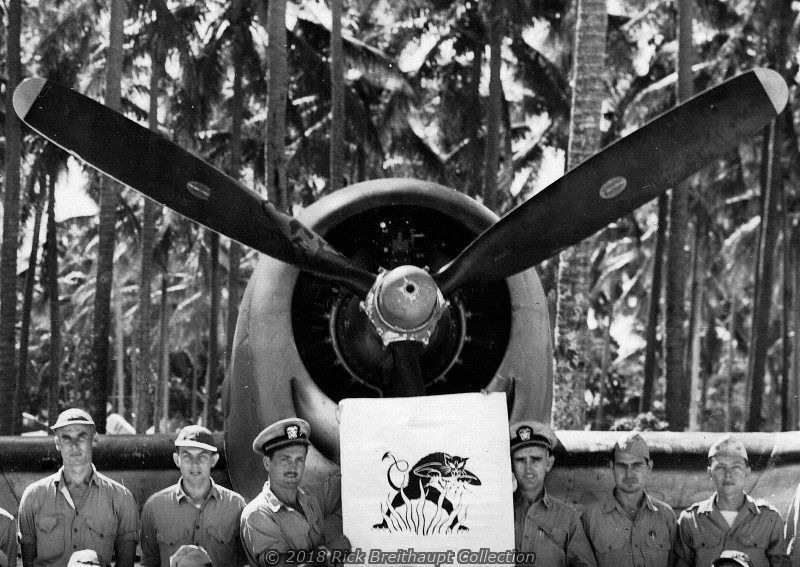 Upon establishment at Seattle in August 1942, VGS-16 shared the careers of many other escort scouting squadrons, finally being designated a FitRon on 15 August 1943. Flying F6F-3s, Lt. Cdr. Monk Russell's outfit arrived at Guadalcanal the 27th of that month. Ens. Jim Warren claimed the first kill, a Zeke over Margusial Island on 6 September. By month's end VF-33 was credited with 20 victories, including three by Lt. Ken Hildebrandt over Ballali on the 14th.

Moving northward to Segi Point, New Georgia, on 19 October, the squadron was better positioned to support strikes in the upper Solomons. The next day four more fighters were splashed east of Kahili.

Over Empress Augusta Bay on 8 November, Lt(jg) J.J. Kinsella claimed three planes to become an ace. His first two dated from VF-72 nine months before. The second Rabaul strike on 11 November resulted in 5.5 more victories for the squadron.

Fifteen kills were registered in December, including six on Christmas Eve, the day Ken Hildebrandt scored his fifth. Missions against Rabaul continued into January, with a dozen claims in the first nine days of the month. Ens. Frank Schneider ran his string to six with a double on the 2nd, followed by another on the 9th. That same day Ens. Jack Watson claimed his fourth.

Among the earliest Grumman F6F "Hellcat" squadrons in combat, VF-33 led all land-based Hellcat units with 74.5 victories.

A split tour began aboard Sangamon in February 1945, beginning operations off Okinawa in late March. First victory of the cruise was a Val on the 26th, with 15 subsequuent splashes through April. Nine_ of those occurred over Myako Jima on the 22nd, with an Oscar becoming Jack Watson's fifth of the war. On the last day of the month a Tony became VF-33's 90th shootdown. The subsequent time in Chenango, July to September, produced no further opportunity.
On-board Memorial Service Program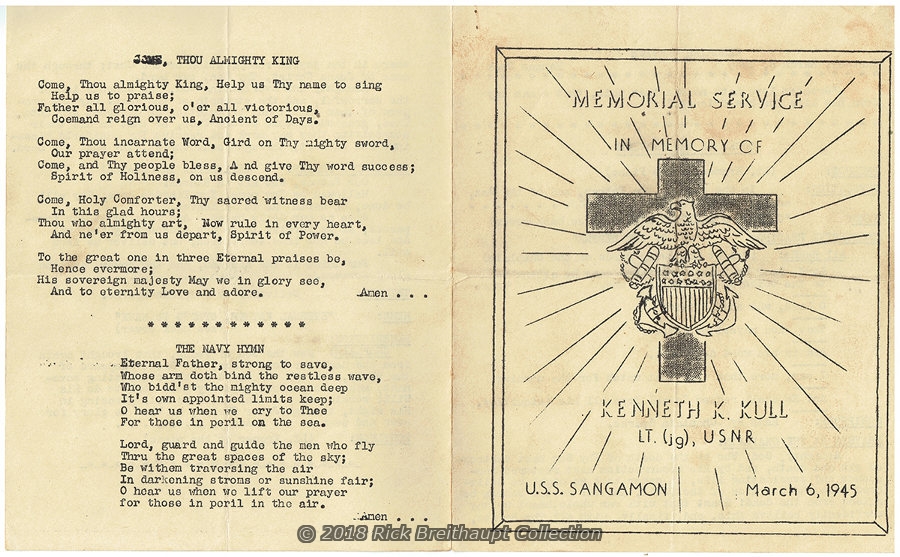 Fighting Squadron 33 (VF-33), Havannah Harbor, Efate, New Hebrides, 02/17/1944                

Source:
Tillman, Barrett. U. S. Navy Fighter Squadrons in World War II. 1997.