VMSB-141 | VMBF-141 | VMTB-141 | Cactus Air Force

Commissioned as VMSB: 3-1-1942
Redesignated VMBF: 10-14-1944
Redesignated VMSB: 12-30-1944
Redesignated VMTB: 5-15-1945

Artist: T/Sgt Rodney C. Anderson
Insignia authorized by HQMC: 1944
Aircraft: SBD-1, SBD-3, SBD-4, SBD-5, TBM-3E, F4U
Embroidered on twill.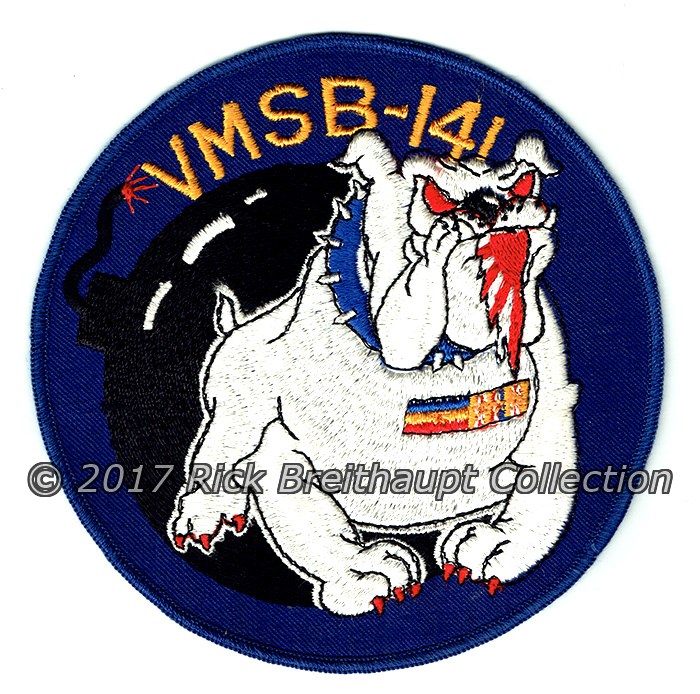 The two ribbons on the bulldog's chest appear to be, left to right, the Navy Presidential Unit Citation (PUC) with star, and the ribbon for the Asiatic/Pacific Campaign Medal with what looks like 3 campaign stars.
Marine Scout Bombing Squadron (VMSB-141) was commissioned on March 1, 1942 at Camp Kearny in San Diego, California. They were originally formed from personnel of VMSB-132. On August 30, 1942 they departed San Diego for the South Pacific and arrived at Henderson Airfield, Guadalcanal on September 23, 1942 and became part of the Cactus Air Force (CAF). The "Cactus Air Force" refers to the ensemble of Allied air power assigned to the island of Guadalcanal from August 1942 until December 1942 during the early stages of the Guadalcanal Campaign, particularly those operating from Henderson Field.
On the night of October 13–14 the Japanese battleships Kongō and Haruna lobbed over 900 shells at Henderson Field. During this bombardment the squadron lost 26 of its 29 aircraft and five officers, including the commanding officer and executive officer. The squadron fought on the island until November 19, 1942 when they were transferred to the Efate in the New Hebrides. During its time with the CAF the squadron would lose 18 of its 41 officers killed in action. They remained on Efate until May 1943 when they moved to Auckland, New Zealand.

In late September 1943, the squadron returned to the United States arriving at Marine Corps Air Station El Toro, California. On October 14, 1944 the squadron was redesignated Marine Fighter Bombing Squadron 141 (VMBF-141). In January 1945, the squadron was ordered to Marine Corps Auxiliary Airfield Gillespie in San Diego, CA where they undertook a rigorous syllabus in low-level bombing and strafing utilizing the Vought F4U Corsair.

In May 1945 was again redesignated, this time Marine Torpedo Bombing Squadron 141 (VMTB-141) and served as a training replacement squadron until the end of the war. The squadron was deactivated on September 10, 1945.
 
Millstein, Jeff. U. S. Marine Corps Aviation Unit Insignia 1941-1946.
Rottman, Gordon L. (2002). U.S. Marine Corps World War II Order of Battle - Ground and Air Units in the Pacific War, 1939-1945.
Sherrod, Robert (1952). History of Marine Corps Aviation in World War II. Washington, D.C. Combat Forces Press.