1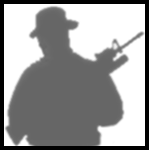 1915/16 display suggestions..............
Started by
Retired Army Noncom
,
Sep 11 2017 09:29 AM
Posted 26 September 2017 - 07:50 AM
---
Posted 27 September 2017 - 05:24 AM
The leather case worn here is for the Warner-Swazey M1908 telescopic sight



Another shot of the Benet-Mercie Automatic Rifle. The boxed magazines for the gun is visible in front of the rear soldier.

 

I'm guessing that the pouch worn by the gunner is some sort of "spare parts" carrier, but I'm not 100% sure about that.
Edited by robinb, 27 September 2017 - 11:01 AM.
---
Posted 27 September 2017 - 06:52 AM
Oh yeah, you're right Robin.
I should have recognized that it was the carrier for the scope ... Thanks for pointing out the obvious!
---
---
1 user(s) are reading this topic
0 members, 1 guests, 0 anonymous users
U.S. Militaria Forum