0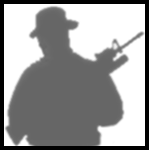 IS THIS A REAL BLOOD CHIT ?
Started by
firefighter
,
Apr 20 2017 01:46 PM
Posted 20 April 2017 - 01:46 PM
I have had this for approx 40 years.
It is approx 9.5" x 12"
---
Posted 20 April 2017 - 04:23 PM
It is 100% correct WWII, it is one of the more common variety issued in 1945. This chit and its counter part with Nationlist Chinese flag for all intents and purposes were intended to replace all previous types and produced in fairly large quantities. As the war encroached Japanese/Chinese & Korean waters and mainlands, these chits were issued to both Naval and USAAF aircrews. Not just units based in the CBI but also land and carrier based units in and around the Philippines. Sorties were consistently being flown around the above mentioned regions.

---
Posted 21 April 2017 - 01:29 AM
Dustin thank you for the information, I appreciate it.

Sent from my SM-G920V using Tapatalk



---
---

0 user(s) are reading this topic
0 members, 0 guests, 0 anonymous users
U.S. Militaria Forum