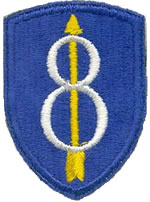 NAME:
Eighth Infantry Division / 8th Division
NICKNAME:
"Pathfinder" and "Golden Arrow Division"
NICKNAME HISTORY:
The 8th Infantry Division was known as both the "Golden Arrow" and "Pathfinder" division during World War II. Both nicknames originated from the division's insignia, which includes a gold arrow to represent the nineteenth-century explorer of California, John Fremont. The division was formed in California in 1918.
BATTLE HONORS:
Brittany
Duren
Cologne
ACTIVATED:
Jan 1918
July 1, 1940
1950
DEACTIVATED:
Jan 1919
Nov 20, 1945
1992
HISTORY:
"World War I

Activated: January 1918
Overseas: November 1918



Commanders:


Col. Elmore F. Taggart (5 January 1918)
Col. G. L. Van Deusen (15 February 1918)
Brig. Gen. J. D. Leitch (25 February 1918)
Maj. Gen. J. F. Morrison (10 March 1918)
Brig. Gen. J. D. Leitch (18 March 1918)
Maj. Gen. William S. Graves (18 July 1918)
Brig. Gen. J. D. Leitch (4 August 1918)
Maj. Gen. W. S. Graves (11 August 1918)
Brig. Gen. J. D. Leitch (12 August 1918)
Maj. Gen. Eli A. Helmick (2 September 1918)
Brig. Gen. J. J. Bradley (20 November 1918)
Maj. Gen. Eli A. Helmick (26 November 1918)

The 8th Division did not have battle experience in World War I; it returned to the United States and was inactivated in January 1919.


World War II

The 8th Infantry Division was formed in 1918 during World War I and was sent to France that same year. During World War II, in early July 1944, the "Golden Arrow" division landed on Utah Beach in Normandy, just weeks after the Allies invaded France on D-Day (June 6, 1944). Shortly after its arrival, the division captured the French cities of Rennes and Brest.

Following these actions, the 8th turned eastward toward the German border, taking part in the heavy fighting in the Hürtgen Forest in November 1944. In early March 1945, the 8th had advanced into the Rhineland. It fought its way into the Ruhr region the following month. By war's end, the "Arrow" division had advanced to the Elbe River in central Germany.

On May 2, 1945, as it advanced into northern Germany, the 8th Infantry Division encountered the Neuengamme concentration camp Wöbbelin subcamp, near the city of Ludwigslust. The SS had established Wöbbelin in early February 1945 to house concentration camp prisoners who had been evacuated from other Nazi camps to prevent their liberation by the Allies. Wöbbelin held some 5,000 inmates, many of whom suffered from starvation and disease. The sanitary conditions at the camp when the 8th Infantry Division and the 82nd Airborne Division arrived were deplorable. There was little food or water, and some prisoners had resorted to cannibalism. In the first week after liberation, more than 200 inmates died. In the aftermath, the U.S. Army ordered the townspeople in Ludwigslust to visit the camp and bury the dead.

The 8th Infantry Division was recognized as a liberating unit by the U.S. Army's Center of Military History and the United States Holocaust Memorial Museum in 1988.

Activated: 1 July 1940
Overseas: 5 December 1943



Campaigns:


Normandy
North France
Rhineland
Central Europe

Days of combat: 266.

Distinguished Unit Citations: 5
Awards: MH-3 ; DSC-33 ; DSM-2 ; SS-768; LM-12 ; DFC-2 ; SM24 ; BSM-2,874 ; AM-107.



Commanders:


Maj. Gen. Philip B. Peyton (June 1940-December 1940)
Maj. Gen. James P. Marley (December 1940-February 1941)
Maj. Gen. William E. Shedd (February 1941)
Maj. Gen. Henry Terrell, Jr. (March 1941)
Maj. Gen. James P. Marley (April 1941-July 1942)
Maj. Gen. Paul E. Peabody (August 1942-January 1943)
Maj. Gen. William C. McMahon (February 1943-July 1944)
Maj. Gen. Donald A. Stroh (July 1944-December 1944)
Maj. Gen. William G. Weaver (December 1944-February 1945)
Maj. Gen. Bryant E. Moore (February 1945-November 1945)
Maj. Gen. William M. Miley (November 1945 to inactivation).

Returned to U. S.: 10 July 1945.

Inactivated: 20 November 1945.

Major General William C. McMahon was relieved shortly after the Division arrived in Normandy. His replacement, Major General Donald A. Stroh was temporarily relieved during the Hurtgen fighting; the death of his son, a pilot in the U.S.A.A.F. who was shot down over Brittany, had made a deep psychological impact. After a rest, Stroh went on to command another overseas division.


Combat Chronicle
After training in Ireland the 8th Infantry Division landed on Utah Beach, Normandy, 4 July 1944, and entered combat on the 7th. Fighting through the hedgerows, it crossed the Ay River, 26 July, pushed through Rennes, 8 August, and attacked Brest in September. The Crozon Peninsula was cleared, 19 September, and the Division drove across France to Luxembourg, moved to the Hurtgen Forest, 20 November, cleared Hurtgen on the 28th and Brandenburg, 3 December, and pushed on to the Roer. That river was crossed on 23 February 1945, Duren taken on the 25th and the Erft Canal crossed on the 28th. The 8th reached the Rhine near Rodenkirchen, 7 March, and maintained positions along the river near Koln. On 6 April the Division attacked northwest to aid in the destruction of enemy forces in the Ruhr Pocket, and by the 17th had completed its mission. After security duty, the Division, under operational control of the British Second Army, drove across the Elbe, 1 May, and penetrated to Schwerin when the war in Europe ended.



Assignments in the European Theater of Operations


30 November 1943: Attached to First Army.
24 December 1943: XV Corps.
1 July 1944: VIII Corps, attached to First Army.
1 August 1944: VIII Corps, Third Army, 12th Army Group.
5 September 1944: VIII Corps, Ninth Army, 12th Army Group.
22 October 1944: VIII Corps, First Army, 12th Army Group.
19 November 1944: V Corps.
18 December 1944: VII Corps.
20 December 1944: Attached, with the entire First Army, to the British 21st Army Group.
22 December 1944: XIX Corps, Ninth Army (attached to British 21st Army Group), 12th Army Group.
3 February 1945: VII Corps, First Army, 12th Army Group.
2 April 1945: XVIII (Abn) Corps.
26 April 1945: XVIII (Abn) Corps, Ninth Army, 12th Army Group, but attached for operations to the British Second Army in the British 21st Army Group.




Medals of Honor


Three soldiers of the 8th Division were awarded the Medal of Honor in World War II.

Private First Class Ernest Prussman, 13th Infantry Regiment. Prussman took over his squad on 8 September 1944 during the advance on Les Coates in Brittany, and disarmed several Germans, including a machine gun crew. Shot by a German rifleman, his dying act was to unleash a hand grenade that killed the man who shot him. His Medal of Honor was awarded posthumously.

Private First Class Walter C. Wetzel, 13th Infantry Regiment. As acting squad leader in the regimental Anti-Tank Company, PFC Wetzel defended his platoon's command post from an enemy attack on 3 April 1945. Wetzel threw himself on either 1 or 2 enemy grenades (sources vary) thrown into the C.P. His Medal of Honor was awarded posthumously.

Staff Sergeant John W. Minick, Company I, 121st Infantry Regiment. After his battalion was halted by enemy minefields during an advance on 21 November 1944 during the Hurgen fighting, he led four men through the obstacle, then successfully destroyed an enemy machine gun post that had opened fire on the small party. Moving forward again, he single-handedly engaged an entire company of soldiers, killing 20 men and capturing 20 more. Resuming the advance, he attempted to scout through another minefield, but detonated one in the attempt. His Medal of Honor was awarded posthumously.

After World War II

The 8th Infantry Division was stationed in West Germany, including the time frame from December 14, 1957, when it was assigned headquarters at Bad Kreuznach, until it was deactivated again 17 January 1992.

Activated:
Commanders:
Maj. Gen. Frank McConnel Aug 50 Jan 51
Maj. Gen. Harry J. Collins Jan 51 Feb 52
Maj. Gen. W.P. Sheppard Feb 52 Jan 53
BG John A. Dabney Jan 53 Jan 54
Maj. Gen. Riley E. Ennis Jan 54 Jun 54
Maj. Gen. Harry J. Collins Jun 54 Aug 54
Maj. Gen. Thomas L. Harold Aug 54 Nov 54
Maj. Gen. Thomas L. Sherburne Sept 54 Nov 54
Maj. Gen. John G. Vanhouten Nov 54 Jan 56
Maj. Gen. Thomas M Watlington Jun 56 Aug 57
Maj. Gen. Philip F. Lindman Aug 57 Mar 59
Maj. Gen. Loyd R. Moses Mar 59 Oct 60
Maj. Gen. Edgar C. Doleman Oct 60 Oct 61
Maj. Gen. Andrew Goodpaster Oct 61 Oct 62
Maj. Gen. Stanley R. Larsen Nov 62 Apr 64
Maj. Gen. Joseph R. Russ Apr 64 Apr 66
Maj. Gen. Patrick F. Cassidy Apr 66 Jun 68
Maj. Gen. Geporge L. Mabry, Jr. Jun 68 Feb 69
Maj. Gen. Elmer H. Almquist Feb 69 Aug 70
Maj. Gen. Donald V. Rattan Aug 70 May 72
Maj. Gen. Frederic E. Davison May 72 Oct 73
Maj. Gen. Joseph C. McDonough Oct 73 Jul 75
Maj. Gen. John R.D. Cleland Jul 75 Jun 77
Maj. Gen. Paul F. Gorman Jun 77 May 79
Maj. Gen. WIlliam J. Livsey May 79 Jun 81
Maj. Gen. Carl E. Vuono Jun 81 Jun 83
Maj. Gen. Charles W. Dyke Jun 83 Jun 85
Maj. Gen. Orren R. Whidon Jun 85 Jun 87
Maj. Gen. Calvin A. H. Waller Jun 87 Jun 89
Maj. Gen. David M. Maddox Jul 89 Nov 90
Maj. Gen. John P. Otjen Nov 90 Jan 92


Divisional history from:

http://www.ushmm.org...duleId=10006150

[url="http://en.wikipedia.org/wiki/U.S._8th_Infantry_Division""]http://en.wikipedia....fa..._Division"[/url]