At this time of year when things quiet down my thoughts always shift to an experiance I had.I often think of how people at this time of year are opening packages and then being disappointed in what they did or did not recieve.Plotting already to return the item instead of accepting the gift for what it is or the thought that went into it....
The Footlocker..The Christmas that never was.
I once owned a medal group before returning to the brother of a KIA from Viet Nam.The mother gave me a few items and a few uniform articles as well as things from her first husband a B17 pilot.He was killed in an airplane accident in 1960-61.The first son was killed in Viet Nam in January of 1968 as a combat medic with the 506th/101st Airborne.
He deployed to Viet Nam in December of 67 and was killed on a combat operation in January of 68.Less than 5 weeks in country as I recall.The second son went to Viet Nam in 70-71 and came home.The third son was killed in a motorcycle accident in 1971.This lady had lost most of her family in a 10 year time frame.The second son never wanted anything to do with any of the items.The son who was KIA was awarded the silver Star and the Purple Heart along with various Vietnamese awards.
Several years later the mother offered me the items when I was approched by her to help her move.This is where I learned the story as I listened to what she said.It was still very painful for her.She said no one is inirested and there isnt anyone who cares.
I kept in contact with her.She was fire ball.Quick witted and sharp as a tack but very to the point.A classy lady.
Then one sumer her only remaining son came to visit and inquired about the medals.She stated she had given them to me.I happened to live right next door.She called and left a message and said she felt terrible about asking for them back.I came home heard the message and went right next door to see her.I told her they were not mine and she explained her son was now intrested and would I be willing to talk with him.He was out running errands and I told her to send him over when he returned.He stopped by an hour later and I showed him what I had done with the medals.The typical things were discussed.I politely mentioned if he was just going to sell them I would purchase them as I had displayed these here and in the area for a few years.He really didnt want them but had a daughter who never knew his brother...her uncle.I told him I would like to return the.Im a care taker and they are not mine and do belong to the family.He offered to pay me for the frame and engraving I had done but I declined.I told him I had a few of his brothers uniform items and he wasnt intrested in those.He also stated "mom had some other things" and wants you to look them over and take what ever you want.Just stop over.
I waited a couple days as we kept missing each other.She saw me in the yard changing oil in the Harley and said "honey come over and that damn thing will hurt you"...lol. I still smile thinking of that day.So I finnished up and we went to the storage room and three of the foot lockers were stacked up there where I had moved them in for her a couple years earlier.There were lots of papers and some old family photos etc in them.She said anything you want,take it, my son went through it already.There was a set of WW2 medals to the father in one trunk under some old hunting clothes and she said those are yours for returning the others.I said the son should have his dads medals and she said there were two sets and these were extras.Then we got to "Johnnys" foot locker.It was a strange and sureal experiance.As soon as I opened the foot locker the hair went up on the back of my neck.I felt a cool air come over me.A slight chill.
First thing I saw was two small boxes wrapped in Christmas paper.THese were sitting on top of stacks of newspapers and funeral cards that were from the time of his death.Letters from the military,sympathy cards from others who cared for her son and then she told me of the hate mail she recieved after he was killed saying he deserved to die in a war that wasnt "right".I cant imagine her grief and anger as I was boiling at this hearing it as she had told me the story on a couple other occasions.
I picked up the two small boxes wrapped in christmas paper.THey had never been opened.THe tags read.."To Johnny...Love Mom and Dad..Merry Christmas".I was just frozen in place and time.Here were two boxes this man had never recievced and had never opened and remained sealed for three decades.The two small boxes appeared to be the type a writing pen and mechanical pencil set would come in and a wrist watch looked to be the size of the other small box.I set the small boxes aside and looked through other items scattered in the footlocker.I poured through newspapers and letters coming to one marked to his mother from Graves Registration US ARMY.In the envelope was a form.A property list of Johnnys belongings.On the list I
noticed...One Pr.Jump Boots,two hunting knives,collar disc,US,one pair wings,one radio,one beret and on it went.
Looking in the trunk obviously several things were mising and there were items his mother had given me previously that were listed.I started to replace things and she asked if I was going to take anything.I said I could use a copy of the news paper toreplace the one I gave to her other sone and a funeral card and if I could borrow the letter from the Army I would copy and return it.She said take it all if you want and kep the letter.I politely thanked her but declined.I replaced the two christmas gifts back in the trunk and closed the lid.i have never forgotten the footlocker or the feeling looking at the Christmas that never was and Johhny who never came marching home.
A few years later the mother passed away and Im not aware what hapenned to the footlocker.I think of Jonny every Christmas even though I never knew him.Two small boxes wrapped in faded chritmas paper has imprinted his memnory in my mind for ever. 
Merry Christmas Johhny and Welcome home where ever you are.
You are not forgotten.
John Holger Wrisberg, III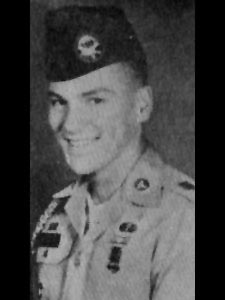 Edited by doyler, 24 December 2015 - 07:28 PM.