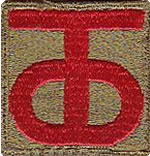 NAME:
Ninetieth Infantry Division / 90th Division
NICKNAME:
"Tough Ombres," "The Alamo Division," and "The Texas-Oklahoma Division"
NICKNAME HISTORY:
Called the "Tough Ombres," the 90th Infantry Division was raised from draftees from the states of Texas and Oklahoma during World War I. The divisional insignia incorporates the letters "T" and "O" to symbolize both states. These letters later yielded the nickname "Tough Ombres," symbolizing the esprit de corps of the unit. The 90th was also sometimes called the "Alamo" division during World War II.
From: http://www.ushmm.org...duleId=10006141
BATTLE HONORS:
World War I
St. Mihiel
Meuse-Argonne
World War II
Normandy
Northern France
Ardennes-Alsace
Rhineland
Central Europe
ACTIVATED:
Aug 1917
March 25, 1942
DEACTIVATED:
June 1919
Dec 27, 1945
HISTORY:
World War I

Activated: August 1917.

Overseas: June 1918.

Major Operations: St. Mihiel, MeuseArgonne.

Casualties: Total-7,549 (KIA-1,091; WIA-6,458).

Commanders: Maj. Gen. Henry T. Allen (25 August 1917), Brig. Gen. Joseph A. Gaston (23 November 1917), Brig. Gen. W. H. Johnston (27 December 1917), Maj. Gen. Henry T. Allen (1 March 1918), Brig. Gen. Joseph P. O'Neil (24 November 1918), Maj. Gen. Charles H. Martin (30 December 1918).

Returned to U.S. and inactivated: June 1919.



Combat Chronicle


Known as the "Alamo Division." Insignia, red monogram of letters "T" and "O", symbolizing Texas and Oklahoma, the native states of the first members of the division. Organized Aug. 25, 1917, at Camp Travis, Texas, under the command of Maj. Gen. Henry T. Allen. All of the first men in the division were from Texas and Oklahoma, those from Oklahoma being in the 179th Brigade and those from Texas in the 180th Brigade. From that time these brigades have been known as the Oklahoma and Texas Brigades. The 90th sent away great numbers of men to fill up Regular and National Guard divisions and to form special organizations of army, corps, and S.O.S. troops. The division was filled up with men from other camps, a large number coming from Camp Dodge, Iowa. The division commenced leaving Camp Travis early in June for Camp Mills. By June 30th all units had sailed from Hoboken. A few organizations went direct to France but the majority of the division landed in England. The 358th Infantry paraded before the Lord Mayor of Liverpool on July 4th, and was given a banquet by the city. Upon arrival in France the artillery brigade was sent to a training area near Bordeaux. The rest of the division was moved by train to the Aignay-le-Duc training area, northeast of Dijon. Headquarters of the division, 179th Brigade and 357th Infantry were at Aigany- le-Duc. Headquarters of the 180th Brigade and the 359th Infantry were at Recey-sur-Ource. The 358th Infantry was at Minot, and the 360th Infantry was at Rouvres. The division stayed six weeks in this area, training eight hours a day for the time when it should take its place in line.

The average advance made by the division in the St. Mihiel operation was six kilometers, in the Meuse-Argonne twenty-two kilometers; the division was under fire from Aug. 20th to Nov. 11th with the exception of seven days occupied in changing sectors; seventy-five days without a relief. During this time it went over the top in two major offensives and seven minor operations, and was still advancing when halted by the armistice. Formed part of Army of Occupation.

The division captured 42 pieces of artillery, 36 trench mortars, 294 machine guns, 903 rifles and immense quantities of ammunition and stores. It took as prisoners 32 officers and 1,844 men. Casualties amounted to 37 officers and 1,042 men killed, 62 officers and 1,257 men severely wounded; 123 officers and 4,671 men slightly wounded; 81 officers and 2,094 men gassed. The division received give official commendations for its individual work in the St. Mihiel and Meuse- Argonne operations. Never gave up a foot of ground to the enemy. Distinguished Service Crosses awarded, 57.


World War II

Activated: 25 March 1942.

Overseas: 23 March 1944.

Distinguished Unit Citations: 5.

Campaigns: Normandy, Northern France, Ardennes-Alsace, Rhineland, Central Europe

Awards: MH-4 ; DSC-54 ; DSM-4 ; SS1,418 ; LM-19; DFC-4 ; SM-55 ; BSM-6,140 ; AM-121.

Commanders: Maj. Gen. Henry Terrell, Jr. (March 1942-January 1944), Brig. Gen. Jay W. MacKelvie (January-July 1944), Maj. Gen. Eugene M. Landrum (July-August 1944), Maj. Gen. Raymond S. McLain (August-October 1944), Maj. Gen. James A. Van Fleet (October 1944-February 1945), Maj. Gen. Lowell W. Rooks (February-March 1945), Maj. Gen. Herbert L. Earnest (March-November 1945).

Returned to U. S.: 16 December 1945.

Inactivated: 27 December 1945.



Combat Chronicle


The 90th Infantry Division landed in England, 5 April 1944, and trained from 10 April to 4 June. First elements of the Division saw action on Dday, 6 June, on Utah Beach, Normandy, the remainder entering combat, 10 June, cutting across the Merderet River to take Pont l'Abbe in heavy fighting. After defensive action along the Douve, the Division attacked to clear the Foret de Mont Castre, clearing it by 11 July, in spite of fierce resistance. An attack on the island of Seves failing, 23 July, the 90th bypassed it and took Periers, 27 July. On 12 August, the Division drove across the Sarthe River, north and east of Le Mans, and took part in the closing of the Falaise Gap, taking Chambois, 19 August.

It then raced across France, through Verdun, 6 September, to participate in the siege of Metz, 14 September-19 November, capturing Maizieres les Metz, 30 October, and crossing the Moselle at Koenigsmacker, 9 November. On 6 December 1944, the Division pushed across the Saar and established a bridgehead north of Saarlautern, 6-18 December, but with the outbreak of the Von Rundstedt drive, withdrew to the west bank on 19 December, and went on the defensive until 5 January 1945, when it shifted to the scene of the Ardennes struggle. It drove across the Our, near Oberhausen, 29 January, to establish and expand a bridgehead. In February, the Division smashed through Siegfried fortifications to the Prum River.

After a short rest, the 90th continued across the Moselle to take Mainz, 22 March, and crossed the Rhine, the Main, and the Werra in rapid succession. Pursuit continued to the Czech border, 18 April 1945, and into the Sudeten hills. The Division was en route to Prague when the war in Europe ended.




Assignments in the ETO


5 March 1944: Third Army.
23 March 1944: Third Army, but attached to First Army.
27 March 1944: VII Corps.
19 June 1944: VIII Corps.
30 July 1944: Third Army, but attached to First Army.
1 August 1944: XV Corps, Third Army, 12th Army Group.
17 August 1944: Third Army, 12th Army Group, but attached to V Corps, First Army.
25 August 1944: XV Corps, Third Army, 12th Army Group.
26 August 1944: XX Corps.
6 January 1945: III Corps.
26 January 1945: VIII Corps.
12 March 1945: XII Corps.


Divisional history from:
http://ranger95.com/...th_div_ww1.html
http://en.wikipedia....fantry_Division
http://www.90thdivisionassoc.org/