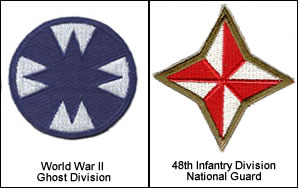 NAME:
Forty-Eighth Infantry Division / 48th Division
NICKNAME:
None
BATTLE HONORS:
None reported.
ACTIVATED:
1943
[Ghost Division]
Jan 31, 1949
[National Guard - Infantry]
1955
[National Guard - Armored]DEACTIVATED:
1944
[Ghost Division]
1955
[National Guard - Infantry]
Oct 16, 1961
[National Guard - Armored]HISTORY:
World War II
The 48th Infantry Division only existed on paper during World War II. This division was officially a ghost division created to deceive the Germans.
Post-World War II
On January 31, 1949, the actual 48th Infantry Division of the Army National Guard was formed. It had a very short life, only being active as the "48th Division" until 1955. In that year, the 48th Division was deactivated to form the 48th Armored Division. That division lasted until October 16, 1961, when it was deactivated.
The patch used by both the 48th Infantry Division and the 48th Armored Division was the same. It consisted of a four pointed start divided into eight equal parts of four white and four red sections. This was the geometric equivalent of the unit's numerical designation.