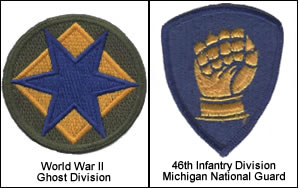 NAME:
Forty-Sixth Infantry Division / 46th Division
NICKNAME:
[National Guard]
"Iron Fist"
BATTLE HONORS:
None reported
ACTIVATED:
1943
[Ghost Division]
1947
[National Guard]DEACTIVATED:
1944
[Ghost Division]HISTORY:
World War II

This division was a ghost unit during World War II.


Post-World War II

The 46th Infantry Division of the Army National Guard of Michigan was organized in May 1947 at Lansing, Michigan. The nickname for the division is "The Iron Fist."

The patch colors of gold and blue come from the colors of the wreath on the Michigan State Crest. These colors symbolize the original exploration and settlement of the state of Michigan by the French. The clenched right hand
represents the constant preparedness of the 46th Division to defend the peace.