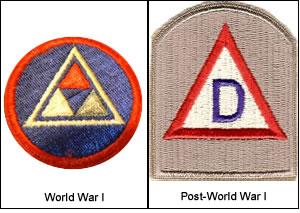 NAME:
Thirty-Ninth Division / 39th Division
NICKNAME:
"Delta Division"
PATCH HISTORY:
Post-World War I Official Design:
Red, white and blue are our National colors. The Greek letter recalls the Delta of the Mississippi and with the English "D" in the center it recalls the popular name of the Division. The Secretary of War approved this shoulder sleeve insignia on 8 Feb 1922
BATTLE HONORS:
None reported.
ACTIVATED:
July 18, 1917
DEACTIVATED:
Jan 1919
HISTORY:
World War I

Organized at Camp Beauregard, La., in Sept., 1917. This division was composed of National Guard troops from Louisiana, Mssissippi. and Arkansas (1st, 2d and 3d Regts. Ark.Inf.; Ark. Amm. Train; Ark. Field Hospital and Amb. Co. No.1, 1st La. Inf.; 2nd Separate Troop, La. Cav.; 1st Regt. La. F. A., and La. Field Hospital Co. No. 1; 1st and 2d Regts. Miss. Inf.; 1st and 2d Separate Sqs. Miss. Inf.; 1st and 2nd Separate Sqs. Miss. Cav.; 1st Regt. Miss. F. A.; Co. A, Miss. Engrs., and Miss. Field Hospital Co. No.1).

The last units arrived in France on Sept. 7, 1918. Ordered to the St. Florent area (Sur Cher) and designated as the 5th Depot Division. Remained in this area, training the personnel to be used as replacements until about November 1st. The training cadres were then transferred to the 1st Depot Division at St. Aignan. On Nov. 30th the division in its skeletonized form was ordered to St. Nazaire for embarkation to the United States. Debarked at Newport News, Va., on Jan. 1, 1919, and went into ca,np at Camp Stuart, Va.

On Jan. 9th, proceded to Camp Beauregard, La., and on Jan. 18th demobilization was commenced.

Maj.-Gen. Henry C. Hodges was the commanding general of this division.



Primary Units:



77th Infantry Brigade:
153d Infantry Regiment
154th Infantry Regiment
141st Machine Gun Battalion

78th Infantry Brigade:
155th Infantry Regiment
156th Infantry Regiment
142d Machine Gun Battalion

64th Field Artillery Brigade:
140th Field Artillery Regiment (75mm)
141st Field Artillery Regiment (75mm)
142d Field Artillery Regiment (155mm)
114th Trench Mortar Battery

Divisional Troops:
140th Machine Gun Battalion
114th Engineer Regiment
114th Field Signal Battalion
114th Train Headquarters and MP
114th Ammunition Train
114th Supply Train
114th Engineer Train
114th Sanitary Train (Ambulance Companies & Field Hospitals 153, 154, 155, 156)

Divisional history from:
http://www.thedigita...division_39.htm