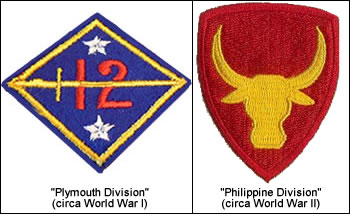 NAME:
Twelfth Infantry Division / 12th Division
NICKNAME:
"Philippine Division" and "The Plymouth Division"
BATTLE HONORS:
None reported
ACTIVATED:
July 12, 1918
June 8, 1921
DEACTIVATED:
1918
April 30, 1947
PATCH HISTORY:
"Plymouth Division" patch:
Popularly known as the Plymouth Division and its shoulder insignia was a blue diamond with a red center and the figure "12" in white pierced by a bayonet. Organized at Camp Devens, Mass., July 12, 1918.
"Philippine Division" patch:
The Philippine Division was created in 1922 based on two US infantry regiments (15th and 31st) and two Philippine Scout regiments (45th and 57th) patch was also adopted on July 8, 1922 and features a gold carabao (symbolizing the Philippines) on a red shield. Gold and red were the Spanish colors.
[From: http://www.philippine-scouts.org/]
HISTORY:
"World War I

Popularly known as the Plymouth Division and its shoulder insignia was a blue diamond with a red center and the figure "12" in white pierced by a bayonet. Organized at Camp Devens, Mass., July 12, 1918. The 36th and 42nd Regular Army Infantry Regiments were ordered to Camp Devens in the latter part of July as a part of the 12th Division. There were taken from each company of these two regiments a certain number of non-commissioned officers and privates who were assigned to the 73rd and 74th National Army Regiments as a nucleus. The 12th Field Artillery Brigade, the divisional artillery of this division, was organized and trained at Camp McClellan, Ala., and never actually joined the division at Camp Devens. By the 1st of September the training of the division for overseas service was well under way. At the time the armistice was signed the division had received for the demobilization of the division, and by January 31st the entire commissioned and enlisted personnel not in the regular establishment had been discharged.

Major-General Henry P. McCain commanded this division from the time of its organization until it was demobilized.

This division was composed of the following organizations: 12th Div. Hqs. Troop, 34th Div. Machine Gun Bn., 23rd Inf. Brig. (36th and 73rd Inf. Regts, 35th Machine Gun Bn.,) 24th Inf. Brig. (42d and 74th Inf. Regts, 36th Machine Gun Bn.), 12th Fld. Arty. Brig. (34th, 35th, 36th Fld. Arty Regts., 12th Trench Mortar Battery), 212th Engr. Regt. And Train, 212th Fld. Sig. Bn., 12th Hqs. Train, and M.P., 12th Supply Train, 12th Amm. Train, 12th Sanitary Train (consisting of 245th, 246th, 247th and 248th Amb. Cos. And Field Hospitals)."


World War II

The Philippine Division—officially the 12th Infantry Division—was the core of the US Army's Philippine Department. On July 31, 1941, the division consisted of 10,473 troops, mostly enlisted Filipinos, known as the Philippine Scouts. All of the division's enlisted men, with the exception of the 31st Infantry Regiment, and various military police and headquarters troops, were Philippine Scouts.

Contents
1 Organization
2 Combat Chronicle
3 Honors
3.1 Campaigns:
3.2 Decorations
4 Commanders:



[edit] Organization

1st Philippine Regiment DUIPhilippine Division Headquarters (181)
Fort William McKinley
Philippine Division (10,473)
31st Infantry Regiment (2,131)
45th Infantry Regiment (PS) (2,265)
43d Infantry Regiment (PS) (329)
57th Infantry Regiment (PS) (2,279)
23d Field Artillery Regiment (PS) (401) (2.95in)
24th Field Artillery Regiment (PS) (843) (75mm)
14th Engineering Regiment (PS) (870)
12th Ordnance Company (PS) (142)
12th Signal Regiment (PS) (227)
12th Military Police Company (PS) (136)
12th Medical Regiment (PS) (421)
12th Quartermaster Regiment (PS) (592)
4th Veteran Company (11)
Special Troops (5)

[edit] Combat Chronicle
The division was stationed at Fort William McKinley, Luzon, Philippines, as part of the US Forces in the Far East (USAFFE). Units of the Philippine Division were on security missions at Manila, Fort McKinley, and Bataan prior to the declaration of war in the Pacific, 8 December 1941. After undergoing 2 days of bombings, the Division moved into the field to cover the withdrawal of troops to Bataan and to resist the enemy in the Subic Bay area. From 11 to 23 December, positions were organized and strengthened and on 23 December the Division was assigned to the Bataan Defense Forces. While the 31st Infantry moved to the vicinity of Zig-Zag to cover the flanks of troops withdrawing from central and southern Luzon, 30 December, the rest of the Division organized the main and reserve positions on Bataan. The 31st Infantry Regiment moved to a defensive position on the west side of the Olongapo Road near Layac Junction, 5 January 1942. This junction was lost on the 6th, but the withdrawal to Bataan had been successfully concluded.

The Division was placed in reserve from 7 to 14 January 1942. This period was largely one of reconnaissance and development by the Japanese in preparation for their attack on the main battle position on the Abucay line. Elements repulsed night attacks near Abucay, 10-12 January,, and other elements of the Division counterattacked on the 16th. Strong offensive and defensive action was not able to prevent enemy penetrations and the Division withdrew to the Reserve Battle Position in the Pilar-Bagac area, 26 January. Until the latter part of March the enemy, made cautious by heavy losses, engaged in patrols and limited local attacks, and after a general retirement, 24 February, did not undertake any serious activity on this front until 28 March. During this period elements of the Division were shifted to assist in the defense of other sectors. The enemy attack on 28 March struck at a division weakened by malnutrition, sickness, and prolonged exposure to combat. The Division, no longer operating as a coordinated unit, was unable to counterattack against heavy enemy assaults. On 8 April, the 57th Infantry and the 31st Infantry were lost near the Alangan River, and the 45th Infantry surrendered, 10 April 1942. The victory over Japan ended the misery of Japanese prison camps for the survivors of the Philippine Division.


Divisional history from: http://ranger95.com/...th_div_ww1.html
http://en.wikipedia....ippine_Division